The twenty600
After puzzling briefly over the title of the new free mag I picked up at the ANU Gym the other day (not quite sure how long it took me – but twenty600 would be Canberra's postcode. Duh *slaps self*), I finally started reading it. With cover articles such as "The Politics of Porn", how could I not be lured in?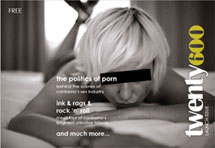 After learning something about the porn industry (handy knowledge, of course) I moved onto rants from both sides of customer service – argh I felt both the pain of the customer and that of the poor person that has to serve them for cash in hand rates (those who are paid cash in hand against the law aren't ever going to be protected by either workchoices or old fashioned award rates) and the hope of half a smile form someone…
Lots of gloss, stories and ads for cosmetic surgery…I still have much to read (yay! that means it has more content that the CityNews), and hope that the promise of quarterly issues does hold true.
You can check the launch issue out online.
Comments
comments
Powered by Facebook Comments