Ahh Vienna. Rish and I flew there straight from Frankfurt. We'd originally planned to spend time there with friends, but bag snatching and subsequent lack of passport put and end to that :(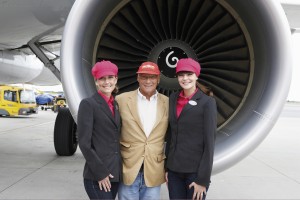 We got some cheap flights to Vienna with Niki – a discount airline, where the hostesses wore pink hats and grey blazers, with skinny jeans and flats. Too cute!
Niki provided prepacked sandwiches on the flights, along with teach, coffee, water and softdrinks. And magazines and newspapers, for those who could read German! Pretty sweet for a discount airline!
In Vienna, we stayed at the Hostel Ruthensteiner… which I must say, was perfect for us. Wifi in the main common areas, bar, info readily provided. Nice.
We actually stayed the most nights in the apartment in the building across the street, with our own bathroom, but sharing the kitchen etc (which we didn't use) with another couple. I think that was 60 euro /night.

Hostel Bfast. 2.5 Euro, I think…
On our return to Vienna (we went to Prague from there, then came back for a night) we stayed in the dorm accommodation. Dorms aren't my style, but it was pleasant enough! Except for the shower, which was like those timed taps in public toilets. Oh and the light was also times, so I finished my shower with the time taps in the dark! >:[
First stop – wandering around Vienna – found ourselves in a street market… Including kids selling 'stuff' from home, food and drink. Gotta love how people can manage to drink in the street in Europe without the 'issues' we have in Australia…

The stallholder described it as "alcohol and strawberries" mmm

We then made our way to Strudel. As you do. And as my waxers insisted I do (long story)
Day 2 Vienna
On our second day in Vienna, we headed to Schönbrunn Palace… a short walk (maybe 1-2km) down from our hostel. As it was Sunday, many other things were closed (had to get used to that!) so a palace was a great was to spend a Sunday!

I discovered a love/fetish/fascination for clocks while in Europe. I don't know where it came from, but I found it!

The day started off sunny, but quickly deteriorated to rain!

The citrus fruit kept us amused for awhile!

I got lost in a maze. Seriously. I couldn't figure my way out. Oh dear

Rish played maths games in the maze

ahh, rain. we saw a lot of you in Europe

I ate a lot of things I shouldn't in Europe! Yes, my tummy paid!
When we went back into the city, we wandered into a Jewish event. There was a line, there were security guards/police, metal detectors, and it was free. So we lined up and went in!

A man in a strange newspaper suit
We then went for more wandering…

Rish got the smoothest vanilla bean gelato in the WORLD. I wish I could have eaten more than a taste!
Soon enough, it was Schnitzel time. This was what I was here for, right? ;)

The little pub/cafe we ate at. Lots of Austrians there, which is what we were after!

Schnitzel! Woo! Battered, deep friend chicken awesome!

Salad that game alongside my schnitzel. There was sauerkraut. Yum!

I'm not sure how I got through it, but I did.. Perhaps the wine helped?
Full of food, we were certainly up for a few drinks and a night out with the backpackers at the hostel.
After a few drinks, shots and the like, we played this REALLY safe game with a hammer, nails, and wood. This would be dangerous when SOBER, people!

And yes, Rish drank beer. And vodka. Not at once.

Us Aussies danced to Muscles – Ice Cream because the non-Aussies though we were crazy.
Some time after this, I got tired and dragged Rish back to the hostel. hehe. Fun times.
Day 3 in Vienna
Europe – why are all the museums closed on a Monday? Why can't you just employ casuals like the rest of the world and keep them going for us tourists who don't understand that when we rock up to a museum on a Monday, it'll probably be closed??
*ahem*
So, there were a few museums we wanted to see on the Monday, but they had to wait until we ducked back through on the Friday (I think it was a Friday, anyway!). Get to them soon!

Started the day all civilised with a hot chocolate for Rish and a tea with lemon for me. I liked the tea with lemon thing. This has prompted me to try it again here!

I saw SO many churches, it became a blur!
We went to the royal choclatier… yeah, I know me a chocolate don't mix. I remember. I just chose to ignore that :p

Rish's hot chocolate with vanilla ice cream

Rish wanted me to be in some photos. Yes, I lived in Threadless Tees the whole trip.
We went into the Cathedral that afternoon.
(there are more photos of everything in my Flickr set!)
And then to the Concert hall to hear some chamber music that nice. It was wonderful, and I'm a little embarrassed to admit that I was really very tired and struggled to stay awake in parts of the performance. Loved it though.

A late dinner out before an early rise for the train to Prague the next day!
Ducked off the Prague for a few nights (but that's a separate post!) and then came back to Vienna for just one more day!

Went to the Weaponry/Musical instruments/Ephesus museum. LOVED the building
At lunch time, we found ourselves near a Turkish/Palestinian protest about the Gaza blockades. The first of a couple I was to see on the trip.
We then went to another museum, again for me this was all about the building itself and not the art on the walls!
That night, we were after a feed nearby the hostel, so wound up about 200m away at a little pub, which served up HUGE serves…
Which we must have enjoyed!
Vienna was great! Loved it there… if it was a little warmed it would have been even better! :) It was great to have that week wandering around with Rish, seeing new places, speaking really crap German! :) Stay tuned for the rest of the trip!
Comments
comments
Powered by Facebook Comments