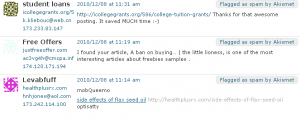 Since I upgraded to the latest version of Akismet, it's been working in overdrive! Maybe it's the season, like getting waaaaay more junk mail, but the spammers have having fun, but fortunately, going through to spam.
UN-fortunately, a few of you have been sent into the spam filter. I know I've fished Veronica out of there recently. At least she was easy to find.
Why was she easy to find? Her little Gravatar next to her comment helped me when skimming the spam comments to see if there was anyone real in there. I love Gravatars, helps in getting that little bit more personality across – for those of you who are all for blog branding and crap stuff like that, you can carry it over more easily onto other people's blogs. It also gets picked up by some forums and other sites when the manager is cluey enough to use a plugin for it. Beats uploading an icon each time!
So, I would suggest you get a Gravatar so I'm less likely to lose you if you accidentally fall into my spam folder!
Want you show yours off by commenting now?
xx
Comments
comments
Powered by Facebook Comments