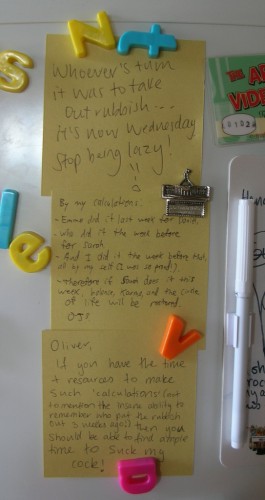 One of the things that has really helped me in the quest to settle down in Sydney has been finding myself with a great living situation. I have to confess, I'm not a people person – I need my down time (hello understatement), and the idea of having to live with someone I didn't know, or worse, do know but don't get on with when living in close quarters *shudders*
So, this match up has been great. Found through a dating-like website for flatmates, we both enjoy a glass of wine, and just click pretty well :) The selling points initially were the proximity to work, the train line, being offered a cup of tea, and it being furnished (cute little dresser and all!). And when I need to escape my messy room I can lounge all over my favourite sofa and not worry about being in the way!
I'd kind of refused to have housemates in the past, whinging whenever it was suggested along the way, citing the fact that it may just drive me insane, among other things! Rish always dealt with that, and somehow has dealt with me as a flatmate for the past six years!
What is it that has made or broken housemate relationships for you? Is it the smoker who refuses to admit to it? The dishes issue? Is it their obsession with The WotWots, or something positive, like being there for you to talk or not talk after a bad day?
Comments
comments
Powered by Facebook Comments