Ez turned one this week, and she is FAR from a fussy eater – the only thing she has refused to eat in the past is white bread (too boring!) preferring the multigrain loaf. She tucked into Dolmades when I handed her one, and stole half my olives last time I had a salad with her about!
Liam, on the other hand, is more 'typical toddler' in his approach to eating – white and yellow foods are considered quite safe – think nuggets, banana, bread, fish fingers, cake, biscuits and the like. Peas and corn are the veges of choice, but I'm told he gets that from his father ;) (and they are still both in love with the air fryer for cooking up such delights) I got a Thai fish cake into him over the weekend!
I've worked with a bunch of kids over the years as a speechie where they've had very selective diets – even moreso than Mr Liam. I remember once, while out on a visit, having the mum trying to encourage the kid to eat their egg sandwhich, and me struggling to find a comment to make that wouldn't put them off – could the child SEE that the smell of egg, or the thought of runny egg yolks makes me gaggy? That only this year I've managed to eat a few hard boiled eggs, but I'm still a mile from runny eggs? That even though I know in theory that eggs are a good nutrient rich food. I have smell and texture issues when it comes to food! Pumpkin was another food I only learned to eat as an adult, and I'd take raw carrots any day over limp cooked ones!
How about you? Do you have any lingering food aversions as an adult that make it tricky to talk kids into eating stuff? Do you look at grapes with seeds and go "I know it's normal to eat these, but I just can't get past the teeny little seeds in them – hand me some seedless grapes"??
Could you do with doing the Gutsy Challenge, a fundraising project from the GI Cancer Institute that asks children to eat 2 fruit and 4 veg a day for 1 week. This healthy eating challenge is a great extra incentive for getting kids to eat well. What would you have to change in your diet? If you and your kids want to get involved, it runs until November, and there are loads of cool prizes to win for students who fundraise including digital key rings, movie tickets, iPod nanos, Nintendo DSis and more.
If you want a kick start, then enter my little comp – Share your food issues in the comments below for your chance to win a Fruit Box from Aussie Farmers Direct. I'm quite willing to say that this is a competition where the winner will be judge on amusement factors, with me sending a shortlist of my faves for the GI institute to pick the winner. Aussie metro addresses only (capitals and major regional centres, check the website if they deliver to you), and unfortunately they don't deliver to NT or Tas. Closes on Aug 22.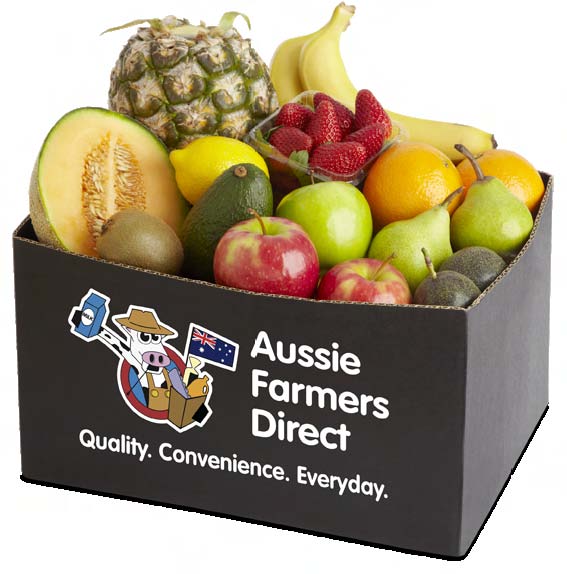 Find out more about Gatro-intestinal cancers here.
Gastro-intestinal (GI) cancer
 GI cancer is the most common form of cancer
 26 Australians die every day from GI cancer
 20,000 are diagnosed with GI cancer annually
 Lifestyle factors, such as a diet low in fibre
and high in fat, as well as reduced physical
activity, also increases the risk of cancers.
Comments
comments
Powered by Facebook Comments