The Purr-fect Cup of Coffee coming soon at the Capital Cat Cafe in Canberra!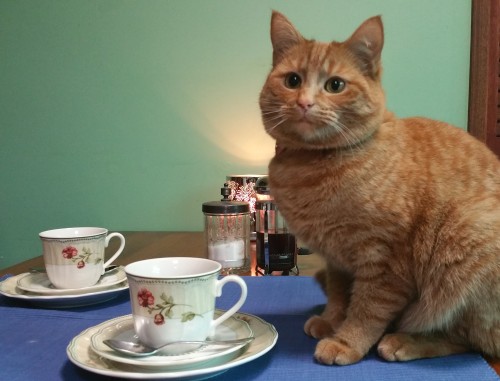 Fancy a cup of tea with a certain ginger former Prime Minister? Or, rather, her cat namesake? Or perhaps you live in a flat with a "no-pets" policy and you sorely miss your kitty back at your parents place? Or is your partner allergic to cats so there's no way you'll ever have your own?
Well, if you're in Canberra, you'll soon be able to dine with some celebri-cats at the Capital Cat Cafe! The cafe is hoping to get up and running soon in hipster Braddon with the help of their IndieGoGo campaign. Some of the awesome rewards include your name on the wall of honour in the cafe for all eternity for only $20! This is an awesome reward for someone who can't make it to Canberra but wants to support the kitties, or who just wants that kudos of all their mates seeing their name with envy every time they sup with (Sir Robert) Menzies.

Julia and Menzies hanging out
The Capital Cat Café will have a unique Canberra feel. The cafe will be fitted out to reflect the many tourist attractions and natural features of the nations's capital. The Kitty-Parliamentarians will have their own Prime Minister's Office and Cabinet Room along with a mini Canberra decked out with all the facilities and equipment a cat could ever want or need! (Along with many media advisors, I'm sure)
Check them out!
Website – capitalcatcafe.com.au
Facebook – facebook.com/CanberraCatCafe
Twitter – twitter.com/CapitalCatCafe
Indiegogo – indiegogo.com/projects/capital-cat-cafe
Comments
comments
Powered by Facebook Comments