Collaborative Post
If your home has a spare room that's just sitting there, it's about time you did something with it. But what exactly should you turn the room into? It's not always easy making that big decision, and knowing where to start is a challenge in itself. To help you get started on the right tracks, we've come up with 5 ideas that might appeal to you.
1. Get Fit in a Personal Gym
If going to the gym is one of those things that you always end up putting off until later, maybe what you need is a gym in your home. Having a personal gym makes the task of getting fitter so much easier than it would otherwise be. It can be done quite easily because a lot of the equipment is now affordable, and anything that encourages you to get fit has to be a good thing.
2. Watch Movies in a Home Theatre
Home theatres turn your movie watching experience into something else entirely. TVs are great, but even the biggest and best can't compete with a huge projected image. Nothing beats it, and that's why you should seriously think about setting up a home theatre in your spare room. It might be one of the best decisions you make from an entertainment perspective. All you need is a sound system, projector, media player and a comfortable sofa.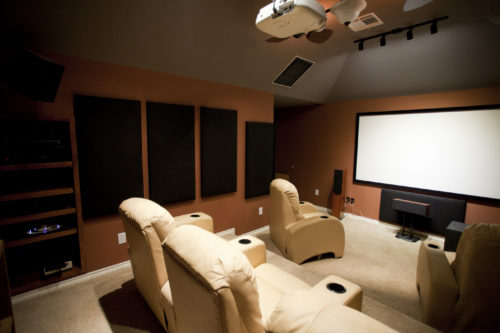 3. Relax in Your Own Home Bar
As you get older and busier, you don't have time to spend at bars every night. Instead, you want somewhere to relax at home. So, why not create a relaxing home bar for your home? It might be one of the best things you can do with that spare room. Everyone will want to come over to try it out, and that'll make it a real social hub. Head to Barware & More if you need furniture for your home bar. And then get the bar itself, and all the drinks, set up.
4. Turn it Into a Games Room
Games rooms are fantastic for people who have a playful side and don't like taking life too seriously. Everyone needs a place where they can go to to let off steam and have some fun. And with games consoles becoming ever more complex and powerful, having a whole room in your house dedicated to your gaming is not such a crazy idea when you think about it.
5. Work at Home with a Home Office
Working at home can help to make your working life that little bit more flexible. If it's something that you're able to do and your boss is on board with it, you'll need to create a space in which you can work. Your spare room could be the ideal space for you to turn into a home office. It will be shut off from the rest of the home, and you will be able to get on with all of your important work in peace.
As you can see, there is no shortage of options open to you when it comes to deciding what to do with your spare room. Each of the ideas mentioned above is worth considering.
Comments
comments
Powered by Facebook Comments