Collaborative Post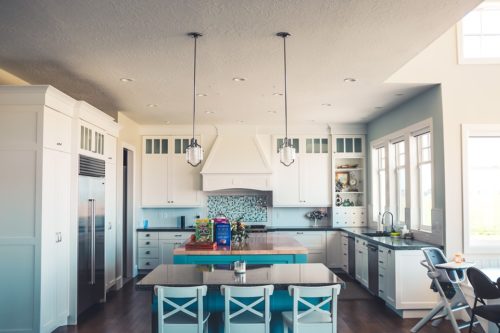 It doesn't matter what season it is, the kitchen is the hub of the home. It is where we all gravitate to because the buzz of activity is alluring. It is that place you go to butcher another Jamie Oliver recipe, where your kids pretend to their homework and where your significant-lover likes to hang out for no other reason except the fact you are in their, reading that book you were meant to start in the summer. You can also check this cooking guide to get you started once you've decided on your kitchen makeover.
To put it simply, the kitchen is the most used room in the home, which is why you need to give it the makeover it deserves, and none is more on point right now than something sleek and utilitarian; cosy yet modern.
Now, most people's reactions are to panic and fluster and think about how your bank balance. But there's no need. All you need to know is a few accessorizing and styling tips and, voila, you'll have that modern but lived-in vibe on show in no time at all.
1. Pretty In Pastel
Wooden cupboards no longer do it. They're just so mundane and boring and what you want is something warm and lively. That is why you should add a splash of colour to your cupboard units by painting them in a light pastel colour, something like a soft duck egg blue or a mild shade of green. Warm and chic.
2. Rug It In
Kitchen floors never get the style treatment. It's as if we think they have to be made of exposed tiles or wooden floorboards and anything else is improper. Well, screw convention because you have every right to liven up your floor, and the simplest way to do that is with a rug – something vintage-inspired. It could fill the entire space or it could be a runner; whatever pleases your palette.
3. A Modern Twist
Back in the day, every kitchen had a fireplace, something that has been lost over time, albeit for obvious reasons. But that doesn't mean you can't shake up your kitchen a little bit by adding a gorgeous gas fireplace. It's giving your kitchen a modern twist in the warmest way possible. Just imagine how cosy you will feel, kicking back in your comfy kitchen chair, flicking through your Kindle as a roast cooks in the oven. Mmmmm.
4. A Beautiful Banquette
You rarely see banquettes anymore. They're furnishings that are all but reserved for fancy restaurants these days. Add one to your kitchen space, though, and you'll get that rustic family feel in an instant – especially if you pile up the cushions; that will make it extra welcoming.
5. Bigger Is Better
We're not saying you need to supersize everything in your kitchen, or even expand the kitchen itself by adding more kitchen cupboards. All you need to do is supersize that subtle focal point – the kitchen sink. It's a great way to add that country-chic vibe to your countertops, turning function into beauty. It could be that you go deep, or you could go wide. Either way, an oversized sink works wonders.
learning german language for beginners becomes simple, learn from our german tutor