Collaborative Post
When all of your basic needs are covered by your home, you start to think about the other things that can add value to your life. And the luxuries that can improve your house don't only have to be the preserve of the wealthy. Of course, a bigger budget makes a difference, but there is no reason why you can't aim to recreate similar features in your own home. So, let's look in more detail at a few of the luxuries that homeowners most desire.
Open Floor Plans
Nowadays, modern homeowners see rooms as an inhibition of their creative ideas and tend to favour open floor plans. So, rather than having a clear sense of division between the different rooms, people tend to want their spaces to be multifunctional. Perhaps you could look into taking down some walls or simply widening up your doorways to open up the space in your house.
The Latest Technology
As technology continues to advance at a rapid rate, homeowners are looking for the ways that they can make their lives that little bit easier. There are so many features which can be controlled using your smartphone that it makes sense that you will want to utilise them. Of course, there are plenty of expensive options out there, but companies like Google and Amazon are competing to make voice-controlled systems increasingly smart and sophisticated.
Outdoor Living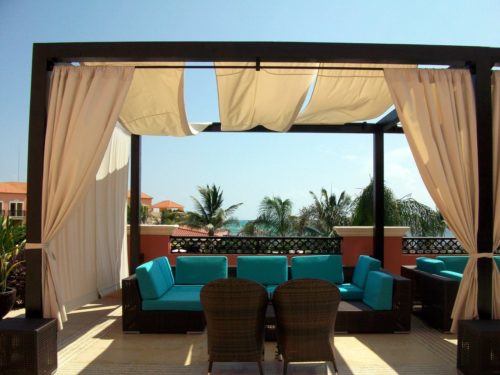 Next up, for the times when the sun is shining, people want to take advantage of outdoor living options. Outdoor kitchens are steadily becoming more popular as people install items like a built-in gas grill, a small fridge, and luxurious patio seating. But one of the favoured options still remains an outdoor swimming pool. If you are lucky enough to have one already, you may want to look into pool renovations. But there are also plenty of smaller and more affordable bathing options.
Game or Theatre Rooms
Most people would love a room of the house which is purely geared towards entertainment, and both game and theatre rooms fit the bill nicely. All you need is a spare room of the house, and then you can invest in a projector or TV, a games console, some comfortable seating, and whatever else you need to enjoy the space.
Spa Bathroom
Finally, nothing says luxury living more than a spa. And while not many people can afford to put one in their homes, you can make your bathroom more spa-like with things like walk-in showers, underfloor heating, and towel warmers.
Everyone wants different things from their homes, but these are just a few of the common desires that people are after. For many people, a home is always a work in progress and you always have the opportunity to add new features to your property to make it that little bit more appealing and luxurious for you and your entire family.
Comments
comments
Powered by Facebook Comments