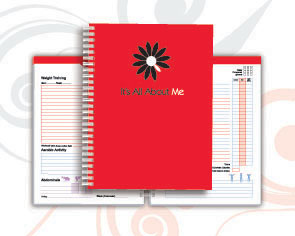 Excited because my new It's all about me journal came :) I had a couple of these and used them well to keep myself on track a couple of years ago, and this will totally help me to get back into it!
Always nice to be accountable in some way. I'll have this November/December/January period to get myself back into recording (not that there's any guarantee of good habits, but recording it is a start!!) before the new year really kicks in.
I love how it has places to track weights and cardio worksouts, along with abdominals in its own space! (Better do them then!!), which is much better than many journals that only let you track food and calories. It also has "check ins" every 2 weeks.
(for the boys, or for those who prefer discreter than red (it used to be bright pink!), there's also a black journal available)
I also signed up for two sessions of bootcamp a week for the next 7 weeks in the lead up til Xmas. That, and being inspired by healthy green apples on my blog layout (yes, click through if you haven't already) instead of cupcakes and things I can't actually eat will set me on the right track!
xx
[kads group="post banners"]
Comments
comments
Powered by Facebook Comments