Once upon a time, in a year now known as 2002 a domain was registered. Yes, this domain. littlelioness.net came into the word on the first anniversary of September 11… And with it was a purple daisy layout. Back on b2!
We now have a new purple daisy layout, 8 1/2 years on, thanks to Aly at Bridgwork Blogs!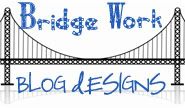 This is her first WordPress layout, and she is currently running a special for self-hosted wordpress users – $75 for a complete design including:
– Installation of Thesis Theme
– Choice of two or three columns
– Custom Header
– Custom Background
– Matching button with grab box
– Color coordination of all test, links, titles, and navigation bar.
– Favicon
I'd suggest get in fast!