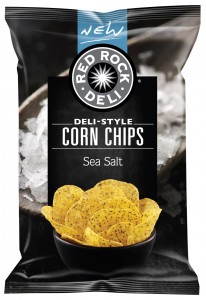 Arrived home just before five one day while we were in and out in the midst of packing up our things from Sydney, and *just* before a courier buzzed the flat. He came bearing a hamper with 4 huge packs of corn chips and a bottle of wine (which I promptly handing on to my flatmate).
Sweet! Snacks for the train ride to Newie!
We had four of the new flavours of Red Rock Deli corn chips to try. I, of course, went straight to the sea salt (the only gluten free option we were sent). Addictive, with those sneaky little poppy seeds to keep things interesting!
Rish and his dad got into the other flavours, the Jalapeno and mature cheddar tasting "like corn chips WITH salsa" and the Three Cheese being rather cheesy and the fourth sitting awaiting a verdict. Or a decent movie on the tele to sit down and snack on them during?
Red Rock Deli also have a range of dips coming out, which I haven't come across yet, but I'll be interested to try next time I have a gathering!
The flavours are
Thai Chilli, Lemongrass, Coriander and Cashew
Yogurt, Cucumber, Feta and Dill
Roasted Red Capsicum, Pecorino, Cashew and Basil
Moroccan Sweet Potato, Sesame and Pistachio
Balsamic Beetroot, Feta and Cashew
Hommus, Pinenut and Caramelised Onion
mmmmm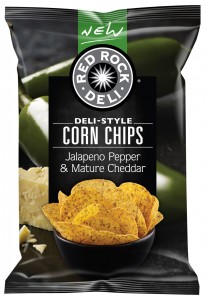 *******
WIN!!!
Thanks to Red Rock Deli and Porter Novelli, you can win a cooler bag stuffed with packs of corn chips like the one below.
Just let me know in the comments your ideal corn chip and dip combination (fantasy or reality) and why they go so well. Please keep it under 25 words. There are 4 cooler bags too win. You may enter once daily so long as the entries are different. Australian addresses only, please. Entries close Midday, Wednesday May 23. The winners will be selected for entertainment and awesomeness value by Porter Novelli.
I received 4 bags of the new Red Rock Deli corn chips and a bottle of wine (which was passed on to my flatmate!) from Porter Novelli in the hope I'd review them.
Entries are now closed, and the winners are Mommy Adventures, Margaret, Gary and Di Childs! Check your emails and get back to me with where we can send the pack! Woo! Meanwhile: Win a Kleenex puppy and products pack!