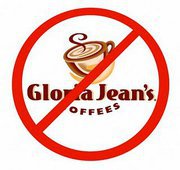 A few years ago many members of the Atheist community and the general population started boycotting Gloria Jeans due to their financial support of Mercy Ministries, who ran/run gay conversion programs….
I just read a post on currentaffairs.net.au in which the author has accessed the political donation details for the Australian Christian Lobby (ACL) for the 2010/2011 financial year.
Political Expenditure – Donation Details – 2010-2011
Australian Christian Lobby
4 Campion Street
DEAKIN ACT 2600
_____________________________ ___________
Donations where $11,500 or more was received for political expenditures:

Neil Golding
31/08/2010 – $100,000.00

Gloria Jeans Coffees International, 11 Hoyle Ave, CASTLE HILL NSW 2154
30/11/2010 – $30,000.00

Christian Super Pty Limited, P.O. Box 3035, RHODES NSW 2138
31/12/2010 – $13,636.00
The ACL, as most of you would be aware, were lobbying hard against the Sunrise / Marie Claire / Getup campaign for marriage equality. ido.org.au.
With the ACL lodging a complaint with the Australian Communications and Media Authority that Sunrise was breaching their codes by supporting the ido.org.au campaign, in that they were not presenting news impartially, and also calling for the public to send messages to Sunrise's sponsors condemning their support of a program supporting marriage equality. Fortunately, that backfired, with many more people contacting the sponsors to congratulate them for supporting Sunrise and Marie Claire and marriage equality :)
So, if you want another reason to boycott Gloria Jeans, then add to them sponsoring a lobby group that claims to represent the Christians of Australia, that lobbies against marriage equality.
Show the world that the hateful messages of the ACL are not acceptable in our society may not be heard over the frantic shrieking of the ACL, but the reasonable rest of the community can keep sending messages in the way that gets noticed. Financially.
You're a fair person, right?
Do what feels fair.
<3