Awoke to the news that the Salvation Army were copping it in the media for reinforcing its stance that homosexuality is an unnatural urge that needs to be suppressed.
Anna Brown, convener of the Victorian Gay & Lesbian Rights Lobby, said the charity had also opposed gay marriage at a House of Representatives inquiry.

"Actively campaigning against marriage equality is counter to the principles of compassion and humanity, and these are the very values that motivate most Australians to donate to the Salvation Army," she said.

"It's difficult to reconcile how an organisation seeking to alleviate social disadvantage can play a role in perpetuating views … founded in prejudice (that) cause significant harm to the health and wellbeing of gay, lesbian and transgender Australians and their families."
My immediate thoughts? Aside from this is why churches shouldn't be responsible for welfare, and it should be government/secular, I was also reminded that one of the current Nuffnang charity ads is selling mobile phone covers for the Salvos, in order to help fund youth services.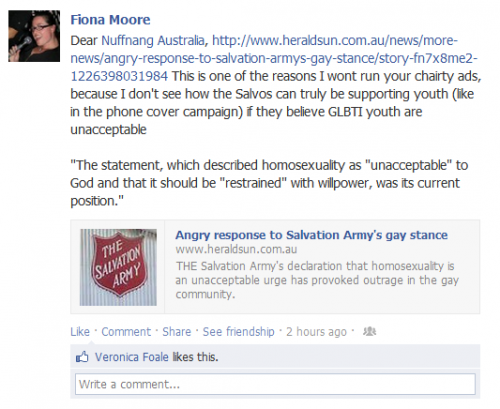 I of course, went straight to the social media to have a few words on it.
But two of my friends, Kel and Jen, put it well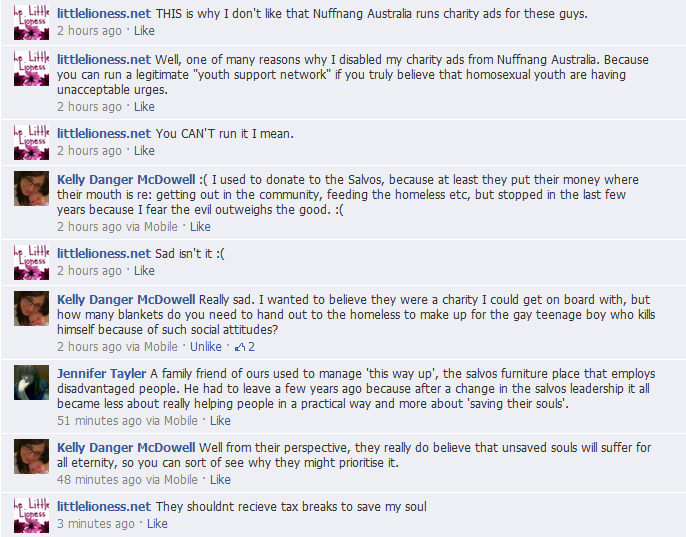 From Kel:
Really sad. I wanted to believe they were a charity I could get on board with, but how many blankets do you need to hand out to the homeless to make up for the gay teenage boy who kills himself because of such social attitudes?
And Jen:
A family friend of ours used to manage 'this way up', the salvos furniture place that employs disadvantaged people. He had to leave a few years ago because after a change in the salvos leadership it all became less about really helping people in a practical way and more about 'saving their souls'.
So, to the Nuffnangers out there, I call on you to disable charity ads while they are still running Salvation Army, or similar charities who are so conflicted over what their REAL mission is. And let the Salvos know where you stand.
Happy Monday.
Comments
comments
Powered by Facebook Comments