First things first – Here's the food:
Butter chicken, Paneer Saag, Rogan Josh, Cheese and Garlic Naans, Onion Bahji and Chicken Tikka. All bound to be amazing, all having graced this palate before. Bay of India is awesome. End of Story!
Which, is why when I was given $50 to play with to try out the EatNow.com.au ordering system, I was glad that while I only had two home delivery options for Valentine (the other being my former Uni-Daze employer), that this was one, and the food I was to receive would be great :)
So, when you get to EatNow, you search for your location, selecting pickup or delivery (default)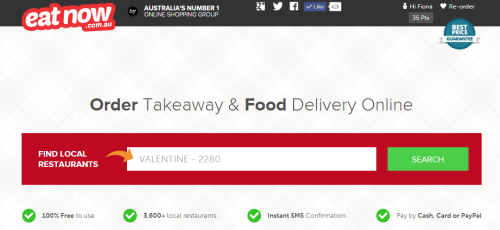 You can register for an account easily, and they take paypal, credit card, or cash at pickup or delivery.
Ordering lets you click across the items you want to your tally on the right there…. Bay of India have 10% off your first order, so more bonus!
It tallies it up as you go, so you know know you're on budget.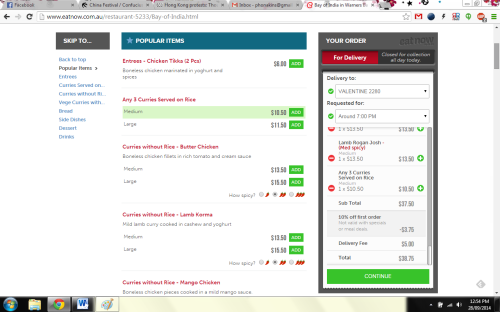 You get to choose options, like how hot the dish is! Also, select from the drop down when you want your delivery – I ended up choosing 630pm, and it got here at 633pm… I'll pay that!! ;)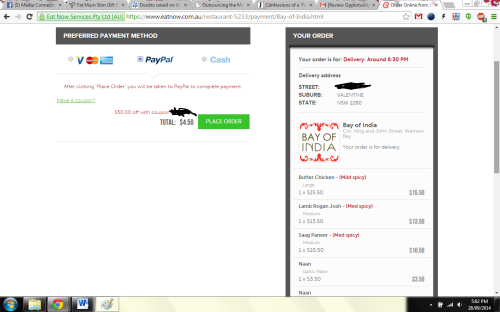 Select payment type and give them your money….
(You get email and sms confirmations, which includes the restaurant's number if there are issues)
And wait… eat… and review!!!
Easy!
The EatNow.com.au Best Eats awards are on at the moment – and you can nominate any of the restaurants they serve! Plus, you could win a trip to Morocco, Italy or Mexico for a foodie's dream trip (or one of ten $250 voucher for EatNow, which is pretty sweet too!)
Have you ordered food online? Was it this easy?