Following a sucky Centrelink apt (yeah yeah, I'll apply for things other than speech jobs, but if there are speech jobs there, I'll still be applying for them as first call) I got some retail therapy in – Target, Big W, Best & Less, and Lifeline – to get a few more summer things….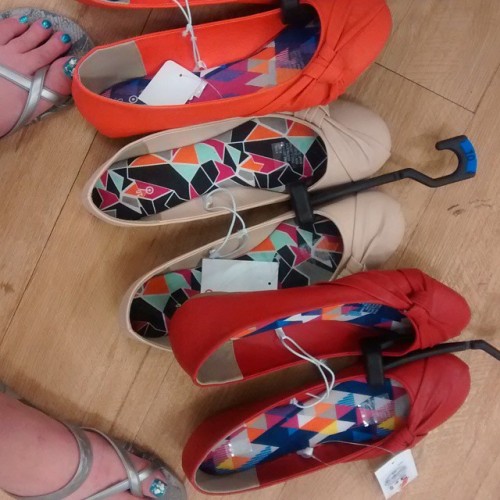 HUGE fan of Target's ballet flats – I've worn through a lot of cheap, colourful shoes from this range over the last few years (this is a good thing)! Today I got the beige ones for $15, and the red and orange ones for $7 a pair!
A couple of cute Avella floral dresses – knee length and sleeveless ready for summer – from Big W for $25 each. I wanted to buy another one – a long atrappy maxi dress in blue – but someone had ripped a few seams presumably while trying it on, and there was only one in that size :(
Another couple of spaghetti strap summer Hi-Lo" dresses from Best & Less – I do like how the women's range goes through from size 8 to something in the 20s while still having cute designs and the same prices – $20 in this case!!! (and are comfy!)
Then $4 well spent on a pair of shoes that was originally $130 according to its inside sticker!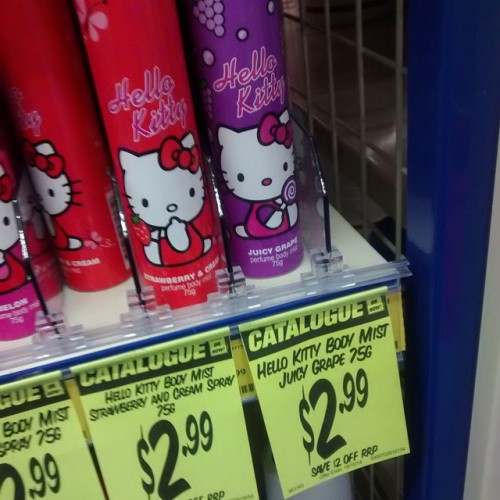 And I FINALLY got me some sickly GRAPE Hello Kitty Body Spray ($3 this week instead of $5 at Chemist Warehouse!)
Get any bargains lately? Or some retail therapy?
(much needed!!!)
Comments
comments
Powered by Facebook Comments