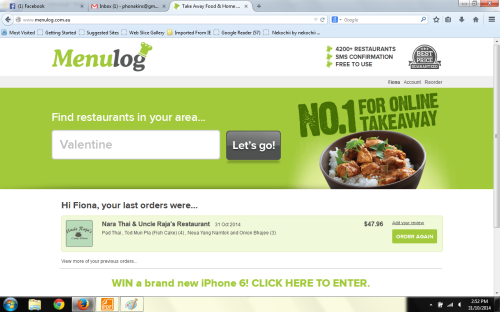 So the dear people at Menulog flicked me a voucher so I could try out their online home delivery ordering system. I'll show you how it works, and if you're still with me at the end of the post you can enter to win a $50 Menulog food voucher!
So , the restaurants in the Newcastle area are slowly joining up to sites like Menulog, but if you enter your home suburb or postcode, it's easy to see who you can order home delivery from online, and the extra places who you can order from online (and pay with CC, PayPal or cash when you get there) in the area.
Search for who delivers to your Suburb
Select where you want to order from
(realise that you have two choices, and Thai sounds more appealing in the heat than Indian, so you select Nara Thai and Uncle Raja's, where you worked all through Uni and hope the food is still as good as 10 years ago! This would also be the restaurants that left me car smelling of various curries, me stained with onion smell for a week after chopping bags and bags of onions, and turned a while car seat cover orange with butter chicken sauce… Nice food though, and certainly not the worst place to work through Uni, given the stories friends tell! Plus, sooooo much pad thai!)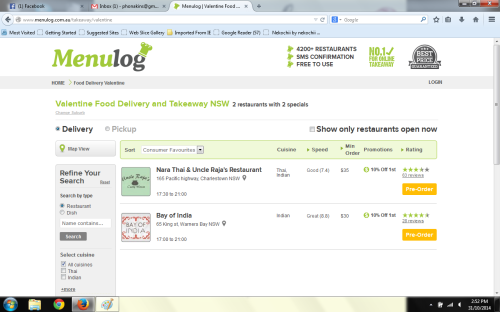 Step 3 – Browse the menu and start adding things to your order/cart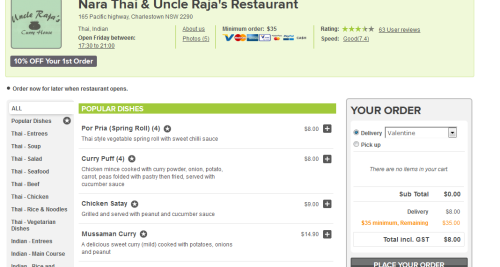 The delivery fee (based on your original suburb search) is already included in the total
There will be a pop-up that asks you when you would like your delivery to arrive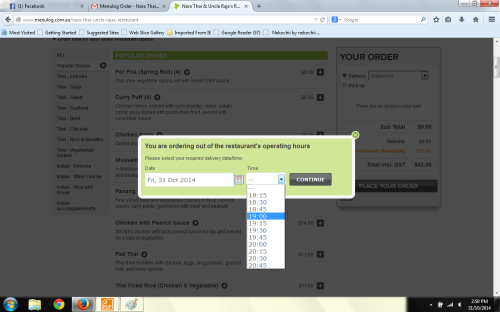 I selected 7pm, however it arrived at 6.15pm… Not great if you were waiting for people to come home for dinner…Or in our case we weren't that hungry yet!
You then click order – enter your full address, and click through to PayPal (or enter your CC details) to pay the bill!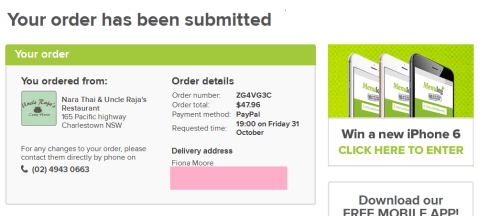 You get this neat little confirmation SMS (along with email) with the restaurant's phone number to call direct if there are any issues
And look at the yummy food I got!

Pad Thai – yummy as ever

(spicy!) Nam Tok Beef Salad – love the flavours in this

(think the Nam Tok needs a chili next to it too!)

Thai Fish Cakes and Indian Onion Bahjee. Because I can. (They clearly had their oil up too hot…)
Win a $50 Menulog food voucher
Okay, so if you'd like to win the $50 Menulog voucher, tell me in the comments a story about where you worked when you were still in school or Uni. Does it still exist? Would you dare set foot in there again?
The winner will be determined by how awesome and funny/terrifying/breaking of all labour laws their comment is as judged by my co-eater Bruce. Entries close at Midnight Monday November 10th, 2014. The voucher expires one month after you win it and is valid for orders in Australia only.
Good Luck!!