Yeah, you know I'm not a domestic goddess.
I've always been the cooker and not the dishwasher.
I've even been banned from doing my partner's washing in the past (too many tissues getting through my sorting)
Which is why I like easy things – and this OMO and Jif are certainly easy options!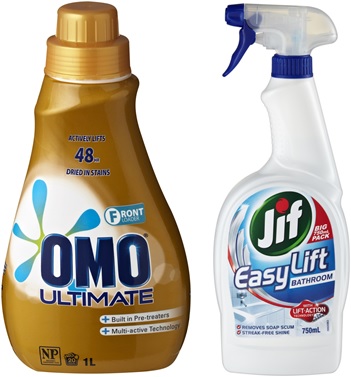 Jif and OMO cleaning products lighten the load for mums (and the rest of us) dealing with the toughest dirt. With its amazing stain removal first time, OMO helps to remove hassle by taking care of the laundry so that you can get back your precious quality time. Thanks to its advanced Lift-Action formula of the Jif EasyLift Spray range, it quickly softens and detaches dirt requiring less wiping, making it easier to get a streak free shine! Click here for more information.
Got a giveaway of the two products pictured:
· 1 x Jif EasyLift Bathroom 750ml Spray- $6.49
· 1 x Omo Ultimate 1L- $12.99 (reader can select front loader or top loader)
Enter using the Rafflecopter below! Entries close Midnight Dec 9th :)