This post is for Product Talk by Nuffnang
There's nothing like a meat pie with tomato sauce. And I'm always happy to try new sauces on my pies and in my dishes, so when it was suggested I try the new Good Choice sauce range from Fountain, I was more than keen. Products with no "added" sugar are all the rage now, and the Fountain Good Choices sauces either have no sugar – like the Gluten free Soy sauce which has 50% less salt than Fountain's regular soy sauce – or are sweetened by the apple puree and Natvia (which I'm not usually a fan of to sweeten things like drinks or baking, but I couldn't taste it in these sauces).
The range includes a Tomato Sauce, BBQ Sauce, Sweet Chili, "Hot" Chili (which wasn't as scary as I thought….) and the Soy Sauce. All are naturally gluten free, and on their own taste quite like their equivalent "normal" range sauces.
So, let's use them in something!
A few weeks ago, I made a Beef Chow Mein from my Hello Fresh box, so I thought I'd tweak their recipe a little and use a few of the sauces I was sent, along with what veges were on special at Woolies (which, incidentally, is where you can buy these Fountain sauces online or in store)
As pictured, the ingredients are (roughly) as follows – this will serve about 6 people. I went overboard, but the leftovers were appreciated by all, including my cat – see the picture at the bottom of this post!)
Ingredients
200g rice vermicelli noodles
500g lean beef mince
1 red onion – diced
1/4 red cabbage – roughly chopped
1/4 green cabbage – roughly chopped
handful green beans – ends cut off and halved
bunch broccolini – cut into 2 cm pieces
1/2 bunch spring onions – thinly sliced
lashings of canola oil
2 teaspoons Chinese 5 spice
1 tablespoon minced garlic
1 tablespoon minced ginger
4 tablespoons Fountain Good Choices soy sauce
1 tablespoon Fountain Good Choices Hot Chili Sauce (it needed more…. probably 2 for me, 3 for most other people!)
1 tablespoon sesame oil
salt
Fountain Good Choices Sweet chili sauce and soy sauce, to serve
Method
1. Place noodles in a heat-proof bowl with boiled water and some salt for 5 minutes. Drain, rince with cold water, then chop roughly with scissors – set aside for later.
2. Heat a splash of oil over high heat in a large frypan or wok. Add the red onion and begin to fry. Once it starts to soften, add the beef mince, and keep poking with a spatula to separate it out into crumbly bits and it is cooked through. Stir through the 5-spice with a tablespoon of water. Remove the mince mixture from the pan and set aside for later (to save space on the bench and washing up, I just dumped this on top of my resting noodles, along with the chopped spring onions – that way I mixed those three all together before re-adding them to the stir-fried veges later!)
3. Combine the sesame oil, garlic, ginger, hot chili sauce and soy sauce in a mug
4. Heat some more canola oil over mid-high heat (about 7-8) and add in the cabbage, broccolini and beans, toss around a bit in the oil, then pour the sauce mixture from #3 over it. Keep tossing for about5 minutes until the veges are cooked to your liking. Re-add the beef, noodles, and the spring onions and stir to combine.
5. Divide the yummy noodles and veges into serving bowls (be wary, this stuff is filling and you can ALWAYS go beak for more). Serve to your guests with spoon and fork, and offer sweet chili sauce and extra soy sauce for them to add to taste (+/- the hot chili sauce, depending on your audience!)
Enjoy with a lovely glass of red, or a local ale!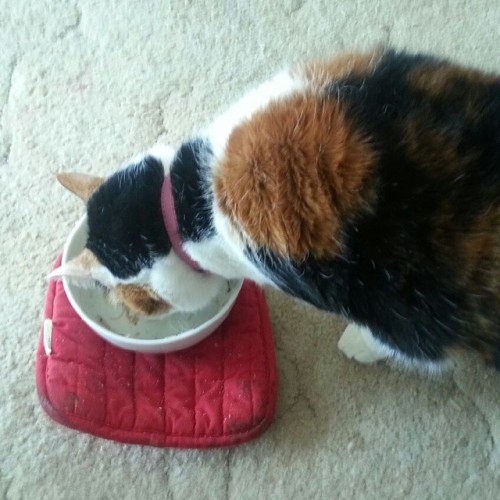 Oh, and share with your cat!
Edit: ooooooo so Mum just told me she loves the BBQ sauce – she and Dad had it with Kanga Bangers (Kangeroo Sausages) and she loved it!