I received the Orgran products as samples
So…. I got a couple of Gluten Free pastas to try from Orgran just in time for the wintery weather!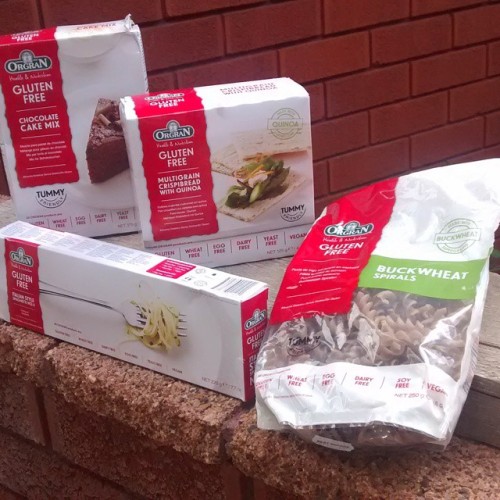 Wanna see??
First up, is what I call "Chicken Pie Pasta".
My dear Bruce makes a wonderful chicken, mushroom and leek pie, so I co-opted the ingredients for a hearty pasta.
You need (for 4 serves):
Pack of Orgran Italian Style gluten free spaghetti
Olive oil
1 onion, diced
A leek, washed and sliced
Dessert spoon minced garlic
3 handfuls button mushrooms, quartered
5 pieces shortcut bacon, roughly diced (ensure yours is gluten free if you need it so – they usually are now, but just check!)
1 piece chicken breast – cubed
About the same of "Italian Herbs" or Thyme (both to taste, of course)
1 cup of chicken stock (not pictured)
Tablespoon sour cream
2 Tablespoons cream
Salt and pepper to taste
To do:
Boil up the pasta in a separate saucepan as per packet instructions. Drain and set aside.
Heat a sploosh of olive oil in a pan. We're using classic and not extra virgin olive oil here because, I'm told, extra virgin olive oil burns too early in the heating process and should be reserved for splooshing on salads and dipping a delicious bread in. Add diced onion, sliced leek, garlic and saute til soft. Season with a little salt and pepper.
Add the mushrooms and fry over medium heat, let them shrink up a little.
Throw in the diced bacon, and cook
Remove everything from pan, add a little extra oil if needed, and cook up the chicken. Stir through herbs.
Add back in the leek/bacon/mushroom mix. Add in stock. Simmer on low-medium until there's a lot less liquid.
When reduced, stir through the creams.Ruturn to heat for about 5 minutes, then stir through cooked pasta and serve. Season with pepper and salt to taste, and there's always the option of parmesan, but I think this is rich enough as is!
And then there was my own creation… Using mushroom and tomatoes as the base with chili for added kick to the buckwheat spirals
You need:
Olive oil
1 brown onion, diced
Tablespoon garlic
Tablespoon Gourmet Garden Italian Herbs or similar
300g button mushrooms, quartered
5 pieces shortcut bacon
2 tins diced tomatoes
2 tablespoons Fountain gluten free hot chili sauce for a bit of tickle
a bag of baby spinach
250g Orgran gluten free buckwheat spirals
Nimbin Natural Parmesan cheese, to serve :)
To do:
Heat some oil in a pan on about 3/4 heat. Add onion and garlic, and saute til the onion softens.
Chuck in the mushrooms and bacon and cook these through
Put in the tomatoes, herbs and chili sauce. Simmer for as long as you like – at least 10 mins. Add in some water or chicken/vegetable stock if you wanna leave it going longer. It definitely won't hurt!
Cook up the pasta as per the instructions on the packet. Drain and plate up.
Stir the baby spinach through the sauce mixture, allow the spinach to wilt a little
Serve it with the pasta, and top with shaved parmesan.
Enjoy with red wine.
I have to say that Gluten Free Pasta is getting better and better with time, and while you still need to keep an eye on it, this Orgran pasta doesn't go gluggy the second you over-cook it! Definitely one for the pantry!