Collaborative Post
We all want a home that is up to date and still in style years after we bought it. To do this, you need to make sure that you are upgrading and renovating rooms like the kitchen. If you don't look after spaces like this, they will quickly fall out of style and you won't even want to spend time in them. You'll find yourself ordering takeout more often rather than taking the time to cook in a kitchen when the out of date interior design work makes you depressed. But that's all about to change because we're going to look at a few examples of modern kitchens and the changes you can make to take yours back to the future of style.
Light It Up
There are so many fantastic modern style ideas on display in the picture above we're not sure where to begin. Though for now, let's focus on how the lighting has been used to make the room stand out. Look at the lights above the countertop in the centre of the room. These are being used to create an industrial aesthetic that fits into the minimalist theme of this space. You can see that it is complemented beautifully by the bare brick wall at the back.
In another area, you'll spot that the extractor fan, a necessary part of any kitchen, has been dressed up with curved lights around it that make it less of a practicality and more of a design feature. Even the lights on the shelf below seem to give the room a little more character and colour, drawing attention to a unique design feature.
Minimise The Storage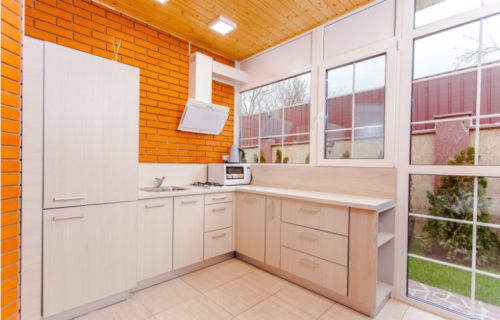 Every great kitchen needs storage space. Otherwise, your room is going to look like a cluttered mess. You can see here how the storage style has been used to clash with the bright shade of the wall in a dazzling way. As well as this, look at how these custom kitchen cabinets are created to be minimalistic. Your eye is instead drawn away to the bright colour and indeed the windows.
You might also notice that this particular room doesn't have that much lighting and that's certainly by design. With such a large window space, why would you need to fill the room with bulbs? This is an example of how you can use the design and layout of the room to your advantage decorating.
Looking Ultra Expensive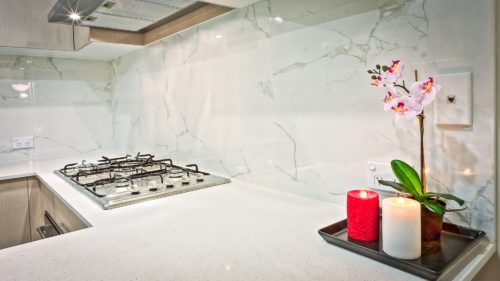 Yes modern kitchen designs can look a tad expensive, can't they? But they're not really. You might have spotted that marble style wall in the picture. But we would bet good money that's not marble but rather a marble wall covering that has more in common with wallpaper than the actual material itself. Still, it doesn't change the fact that it looks stylish, modern and could be a perfect way to bring your own kitchen up to standards.
We hope you have fun using these possibilities to style your kitchen to stun in the modern age.
Comments
comments
Powered by Facebook Comments