Collaborative Post
Australians have a stigma which says we love to workout and stay healthy. Let's face it – to roam the beaches of NSW or Queensland, you've got to look the part. Still, whether we enjoy exercising is another matter completely, and that's the point. Even with a positive routine, it's easy to fall back into our old ways when there is no enjoyment. Every time it feels like a chore, most of us can't help but say "I think I'll give it a miss for today". With autumn and winter approaching, this is an unhealthy attitude which may cause trouble in the summer.
The key is to put the enjoyment back into your workout if there is any chance of sustaining a year-round lifestyle. As difficult as it sounds, there are simple and accessible hacks which revolutionise exercise routines. Here is a selection for anyone that wants to have fun on a treadmill, if that's possible!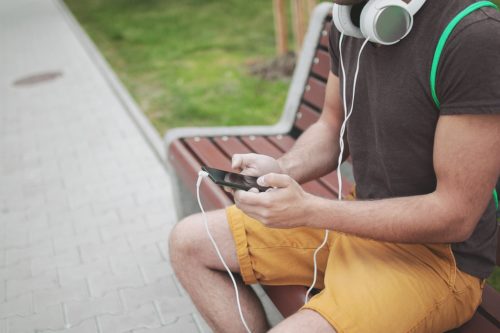 #1: Pump Up The Volume
It's rare to see people jogging or at the gym without earbuds blasting out a variety of hits. Of course, the hacks that you pick should be a personal choice, but who doesn't like music! Not only does it set the atmosphere, but it also encourages you to exercise longer and harder than before. All we have to do is select a section of songs which are high in intensity and get the body moving. A great trick is to choose tunes with a heavy beat, such as dubstep. Once those rhythmic bangers start coursing through your body, the muscles won't feel tired whatsoever. In fact, they may get their second wind and go again! When the session is winding to a close, you should switch up the ethos and use melodic songs for the cool down. In general, shuffling tunes is an excellent way to keep a workout plan fresh and interesting.
#2: Throw Shapes
Okay, most of us wouldn't be comfortable body-popping in the middle of the gym. As far as etiquette goes, this is a no-no even for the eccentric types! Thankfully, there's no reason to act the fool with legitimate dance classes. Sign up to one of these and you can recreate the weekend's moves in a room full of people while sober. What? You're saying that isn't appealing?! Okay, as strange as it sounds, people go mad for dance classes because it's intense, it's interesting, and it's a new skill. Apart from the club scene, attendees also learn the tango, salsa, and a range of other methods. Plus, secretly, everyone wants to be able to dance with the stars as they do on TV. Being able to do it without fear of reprisal is pretty fun. Well, it is if you aren't terrible. If you are, all bets are off!
#3: Reward Oneself
Don't disagree because we all know that exercise is about the rewards. And, not just the ones we see in the mirror after a couple of weeks. No, it's obvious that the last sentence was paying homage to food. Yes, as a sweeping generalisation, almost everyone that exercises do it to avoid a diet. Aussies love their food too much to eat salads – give me an actual rabbit any day of the week! Don't go overboard as you will ruin the hard work, but don't be afraid to sneak a piece of chocolate now and again. Another motivation tactic is a physical award. Trophy medals are extrinsically exciting because humans love to win prizes. Although it isn't an Oscar, you're not Frances McDormand and don't have three billboards outside of Ebbing, Missouri. Still, a trophy is a fantastic way to promote exercise and to challenge yourself to reach important goals. Plus, it's a novelty.
#4: Socialise With Friends
Please don't take working out too seriously. Sure, it's imperative to get into a positive mental space and not cut corners. However, being too intense often takes the fun out of what can be a social highlight of the week. Chatting and laughing with friends are some things everyone should do because they lift spirits. Plus, and this is essential – it's something the majority of us enjoy according to the experts. So, organising the week's session with a BFF is a hack to consider. The generic example is yoga, and a spinning class is popular with mates too. But, you can just as easily hit the treadmill or the rowing machine and swap war stories. Or, you can work out hard and then relax in the sauna and chat the night away. Whatever tickles your fancy, people.
#5: Change It Up
We have all been there when the thought of going to the gym feels horrendous. It's nothing in particular – more a mind-numbingly boring activity on a Tuesday evening. And, boredom is a problem because it feels as if you are living Groundhog Day over and over again. Of course, no one likes the monotony which is why a change of scenery is a smart move. Okay, so the weather isn't going to be great for the next couple of months as summer turns to autumn and winter. Still, most of the country isn't freezing cold like the poor souls in Northern Europe. Anyway, the nip in the air should encourage you to get warm as quickly as possible, and that means exercising hard. If in doubt, wrap up and brace the body from the elements.
#6: Don't Over-Train
In a bid to get fit, it's easy to overload the body from the outset. Although overloading is positive, the muscles need to rest especially if they aren't used to the activity. This is where you're going to jump for joy – it means taking a day off from exercise. Yes, sitting on the sofa watching Netflix is just as essential for training as a 10k run. Why? It's because absence makes the heart grow fonder, for starters. The next session after a rest day is always positive simply for that reason. And, resting helps the mind as well as the body.
Which of these hacks do you think you'll use if any?