Collaborative Post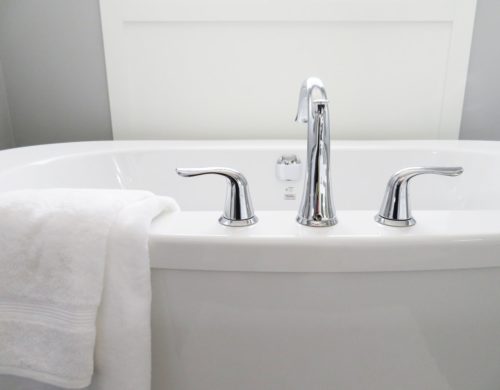 We've all been there: the bedroom is light and airy, the kitchen is bigger than you could have expected and the living room has big double doors opening out onto a gorgeous garden. The only problem is the bathroom.
If you are looking at a repossessed property, it's likely that you will be okay with the idea of putting some hard work in to make the bathroom as beautiful as the rest of the house. In fact, where most repossessed houses just need a mighty good scrub and a few cosmetic details, the bathroom is almost always in a bit of a sorry state and needs some real work going into it.
Why is it so mouldy in here?
Bathrooms are often allowed to go quite mouldy. Mostly this is because of the amount of steam that is allowed to settle in the room, causing mildew and staining the tiles or walls. One of the first things you should do is check for any leaks. There are a few clear signs like the sound of dripping or walls that are damp to the touch but many leaks can go unnoticed for a while before causing complete chaos just after the last new tile has been laid.
To be certain, acoustic leak detection is the perfect way to find hidden leaks. This method uses the subtle sounds made by the leak to detect exactly where it is, even when you can't hear a thing. Once detected, you or your plumber will know exactly where the fix needs to be and can isolate that area, rather than have to break open the walls or floors to hunt it down.
What should I prioritise next?
Once you are happy that the plumbing is all fine, you should think about the fittings you would like to have. If you are planning to sell the property on, go for simple white standard fittings and make sure that the layout is sensible for people to move around in. However, if this is to be your home, you might like to do something a bit wilder black bathrooms are popular in 2018 if you fancy an experiment!)
Tiles are the next consideration and, again, if you are planning to sell, simple white tiles on the floor and walls are probably the best solution. While you could use a waterproof carpet, tiles are much more efficient for cleaning up and won't feel spongy underneath wet feet.
Which plants will do best in here?
Plants are a huge interior fashion trend right now and with good reason. They are the best air filter the world has to offer and the provide instant life and colour to every room. In the bathroom, plants like orchids will be very happy as the steam will be enough to keep them hydrated.
You could also think about adding succulents that also need very little care – just watch out for the spikes and don't place them where anything delicate could get caught. Try putting trailing plants on high shelves to add some drama to the room too.
Comments
comments
Powered by Facebook Comments