Collaborative Post
The kitchen is often the heart of any home, and it will be the room that every family member heads to before they leave the house in the morning, and when they arrive home after a busy day. Therefore, your kitchen space needs to provide the best of both worlds and be a functional space with plenty of interior design charm. Any room that has a lot of foot traffic, and daily use, is likely to suffer a little (or a lot) wear and tear over time. Kitchen spaces can become run down and look tired, making them an uninviting environment for you and your family. Sometimes, kitchens are the last interior challenge you want to tackle because they may seem like a mammoth renovation. However, with a few decisive changes, you can freshen up the space, making it look as good as new.
There's no need to start tearing out cupboards and knocking down walls; you just need a weekend or so, some help from your loved ones (offer to cook them dinner when it's finished), and some great ideas. Therefore it's time to write your list, get to your local DIY or hardware store, contact the right companies for specialist jobs, and roll up those sleeves to create the perfect kitchen in your home. Take a look at some ideas for your kitchen interior and create a space that you can't wait to get back into, whether it's to cook, relax, or catch up with those you love over great food.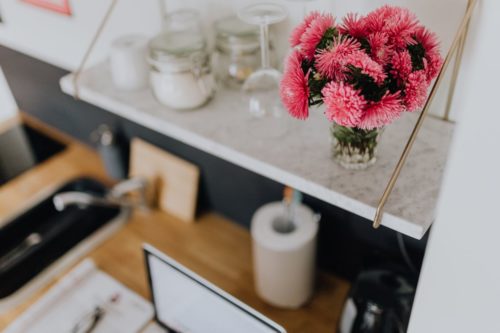 Tired Tiles
It's often the tiles that are the first to go in a kitchen or bathroom environment; sometimes, it's impossible to make the grout look clean and fresh, and chips, cracks, and stains create a tired and unpleasant interior. Therefore it's worth investing in new tiles or replacing them with a glass splashback behind your sink and countertops. Companies like Art Form Living will give you plenty of inspiration, and you'll be able to discover the colours and areas you can fill. You won't have to worry about tired looking tiles anymore, and your kitchen interior will be given an instant boost.
Old Cupboards
Replacing every kitchen cupboard can be expensive and time-consuming; therefore, it could be time to give them a face lift with a fresh coat of paint and some new handles. Painting tired and dark cabinets with a light colour will instantly make the space look bigger, and your kitchen will feel new. You can add designer touches by sourcing unique knobs or handles, and visitors will be asking when you had the refit done. Take a look at sites like Pinterest and get some inspiration and ideas on how to update those old looking doors.
Character, Colour, And Fun
Even though kitchens are primarily functional spaces to cook and store items; you can still add plenty of personality and fun. An interior with your favourite fresh flowers, a shelf with some vintage kitchen items or personal touches, or neat jars proudly on display, will never look neglected. Therefore, it's worth thinking about what you can display and where to add the finishing touches to your dream culinary environment.
Comments
comments
Powered by Facebook Comments