Sporty outfits are these days a regular feature on the fashion scene that is why the correct workout outfit saves you from stickiness and wet spots. Nowadays, it is compulsory to have a healthy and active routine. Exercising to keep yourself active is essential and working out in regular clothes is not an option so for working out you need a good and soft outfit that makes you feel comfortable. If you are wondering where to find your desired athleisure outfits then here are some brands which are quite popular and have good quality products.
SQUATWOLF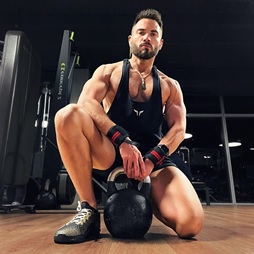 According to us, SQUATWOLF is doing incredible things in the athleisure clothing section. It is far ahead of the competition because of numerous reasons. They have this concept that gym clothes do not have to be basic, they can be super fun or super classy, depending on the customer's preference. SQUATWOLF has a customer centric approach, they design products that are destined to be appreciated by their customers. The packaging is cool, and quality-wise the outfits are super nice and durable. Most importantly the fit is right. they have different sizes that just look amazing on the body, the material is super breathable and very impressive with some cool colors. In a nutshell, SQUATWOLF has everything to be a market leader in the athleisure clothing department.
Lacausa
The second one is Lacausa which came in a kraft envelope made out of 100 recycled materials. The Lacausa means the cause in Spanish. They are a Los Angeles-based clothing company that focuses on a low waste design. They use ethical manufacturing processes, and all of their activities are towards a certain cause. They donate to different causes, and they have a whole list on their website of all the different organizations they work with. They possess a wide variety of beautiful silks, dresses, jumpsuits, and a lot more.
Fabletics
Fabletics has a solid quality that ranges from extra small to 4xl, which means that you won't leave the store empty-handed no matter what size you desire. Moreover, all the products are made keeping aesthetics in mind. The outfits are for some high-performance activities and athleisure. The fabric is breathable and soft, colors are vibrant, quality is top-standard, and the price is affordable. Fabletics is an all-rounder when it comes to activewear. If you have a thing for leggings, that is the right place to satisfy your craving. The tremendous amount of variety in leggings with astonishing designs and texture is just mind-boggling.
Alo Yoga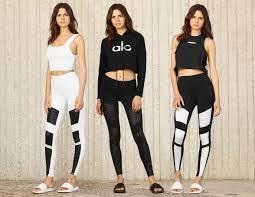 Next on our list is Alo Yoga. Their packaging is super nice, and they have amazing outfits in multiple sizes according to the items with nice quality. The fabric of the material is flattering, and they are sweatproof and are comfortable, functional, and stylish with cool detailing. If you are interested in leggings, then one of their signature leggings is called the airbrush leggings. You can wear them literally everywhere from the studio to the street because it is relaxing, stylish and makes you look incredible.
Yoga Outlet
The last one is Yoga Outlet. If you do yoga, every day then it is for you. There are many items that you need to support your yoga lifestyle. It is a decently priced activewear website that carries a lot of different accessories and clothing. The only drawback with this brand is that they are too focused on yoga-oriented clothing, and that is why it lacks diversity. The outfits are soft and cute, which makes movement more comfortable. Visit the website to find helpful information and eye-catching items there.
All of the listed brands have their strengths and areas to improve. However, all of these brands have one thing in common which is their efforts to deliver what the customers expect. Some are doing a tremendous job while some are getting better each day. The bottom line you can choose whichever brand you feel most related to. The objective is to look and feel good while living a healthy and fit life.