It's not always easy to figure out how to decorate kitchen walls. After all, it's not the first place that comes to mind when it comes to hanging art purchases. But there are some excellent kitchen decor ideas out there that will persuade you otherwise.
It's not all about adorning your shelves with bunches of onions in an attempt to create your own still life. And however colors you choose to fill your blank wall, you'll undoubtedly add more personality and appeal to your kitchen space.
Let's dive into the colorful canvas ideas for your kitchen.
Use the Space Above Your Cabinetry
If your cabinets don't reach color the ceiling, use the tops as an art ledge. You can display canvas prints, photographs, or a collection of oddities. Remember that whatever you put up there will most likely collect dust, so you'll need to clean that area regularly.
Create a Kitchen Focal Point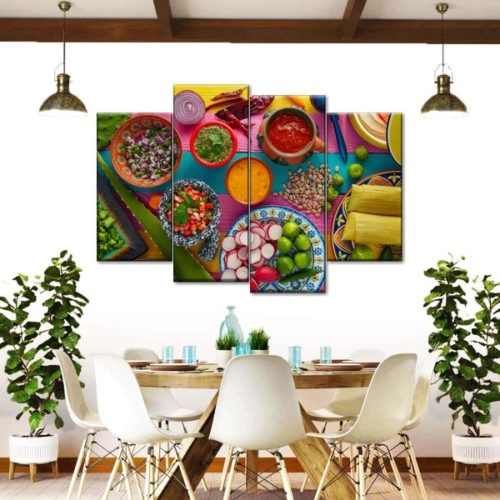 Make the most of the space above your sink by hanging art there. What are the chances? The splash of color in canvas wall art may even make dishwashing more enjoyable. If you don't have a nearby window to look out of in your kitchen, this is an excellent idea. Make your color backdrops!
Be Bold and Graphic
Use a canvas prints like the kitchen rule chalkboard canvas to make a statement. On a blank wall in the kitchen, you can hang in the place of cabinets. You might want to match the color of your board to the cabins. You can also add a grocery list to a personalized chalkboard.
Showcase Your Art Collection
There's no need to confine your art collection to the living room. Hanging a selection salon-style or placing them on a picture ledge will allow you to enjoy your favorite pieces while preparing dinner. If there are any spatters, make sure the pieces are protected with glass.
Humour and inspiration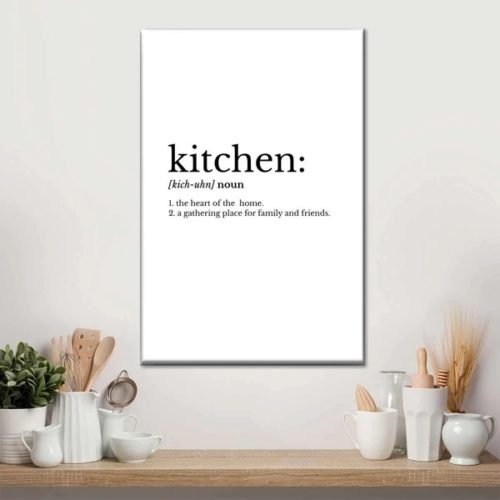 You can choose to add a touch of whimsy to the kitchen with some humorous food quotes and possibly accompanying graphics. Of course, you can stick to inspirational quotes – just make sure they're food-related. "Life is a kitchen; put on your prettiest apron and whip up something incredible," one of the famous quotes.
Go Abstract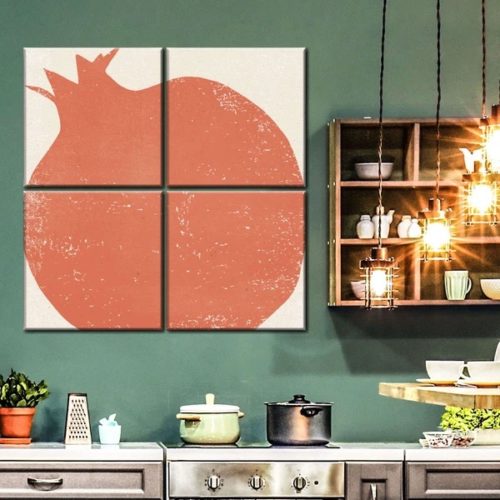 Do you have a wall or two on either side of your cooking area? Consider framing an abstract print or set of canvas prints in your kitchen. Don't be afraid to experiment with abstraction. For example, the orange and white print on the kitchen goes well with the lighting and wall color.
Design a Boho Beauty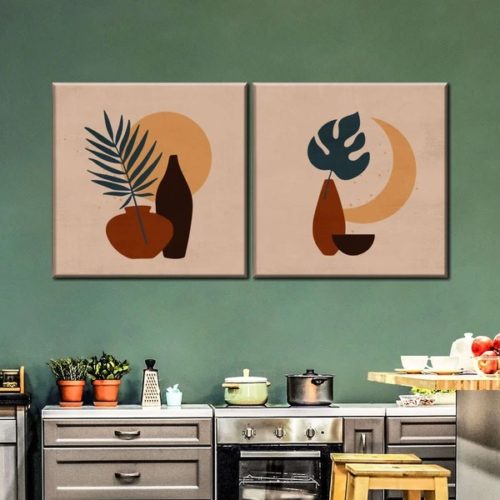 The Bohemian style of decoration originated in Central Europe and was popular among nomads and artists. It is a mix of styles and influences from various cultures. Use wooden art pieces and hanging baskets to create a boho look that can also be entertaining. You can also go to online stores to save your time and effort.
One of the benefits of the boho style is that you can use what you already own. Fill your space with old art, vintage pieces, fabrics, and patterns without worrying about whether they match the rest of your belongings.
The interior of a boho kitchen is warm and inviting, and it could be the heart of your home. However, this design isn't just about having eclectic in your kitchen; it's also about "how" it's done.
Green Apples Wall Art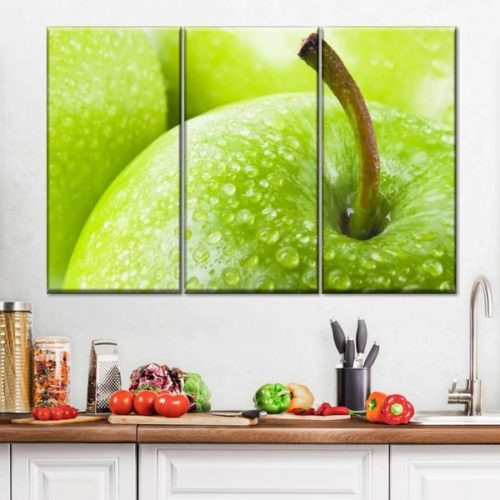 Green does not always refer to leaves or plants; it can also refer to a fruit. Let's concentrate on the green apples in the image. The apples are the only source of green in this whitewashed kitchen. It doesn't have to be a natural apple, though.
You can get the apple as a wall art print or as a plastic toy. Although a small amount of green will have little effect, it will still make a strong statement in the room.
Modern Green Tropical Plant
This green decor idea is fantastic for your kitchen. If you want to decorate your kitchen with a tropical theme, this plant leaves canvas art print poster should be on the wall.
Allow the art print posters' natural green color to colorize the wall naturally by leaving the border plain and white. To amp up the charm, place a green vines centerpiece and a giant tropical houseplant against the wall.
The Bottom line
Finally, think about a creative theme for your kitchen walls. Fruits and vegetable and color backdrop sets populated with furry and feathered friends are popular choices for kitchens. These can be in various art styles, with a common theme running through them all. This allows modern, classical styles to coexist on one wall, resulting in a varied and exciting design.
READ ALSO: How to Choose an Open Care Senior Plan