Motherhood is indisputably the most treasured phase in any woman's life. A lot of thought and planning goes into the colour for the baby's cot, cute bodysuits, woven mittens. Caps are bought with immense love and care. Meanwhile, the focus shifts entirely to the infant; mothers tend to overlook their requirements. However, the millennial moms are prepared to brace motherhood in style. These mommies know how to match their style and needs together as one. That brings us to the latest trends in baby wear, comfy baby carriers and trendy nappy bags.
Designer Nappy Bags
Since nappies are an inseparable part of an infant's life, these need to be handy and readily available wherever you go. Companies have come up with beautiful designer nappy bags to cater to the needs of young parents.
Need for Nappy Bags
One of the primary reasons to have a nappy bag is for the sake of convenience to carry your baby's stuff in one bag regardless, of you being indoors or outdoors. Moreover, these bags are designed in such a way that they have ample space and pockets to store all that you need as well as different styles such as backpacks, tote style bags or sling bags make it easier to carry along with your baby in one hand.
Secondly, with the new styles in which nappy bags are designed they serve a dual-purpose allowing moms to keep the baby's nappies, bottles, wipes along with her own essentials. This helps in avoiding the hassle of carrying a separate handbag.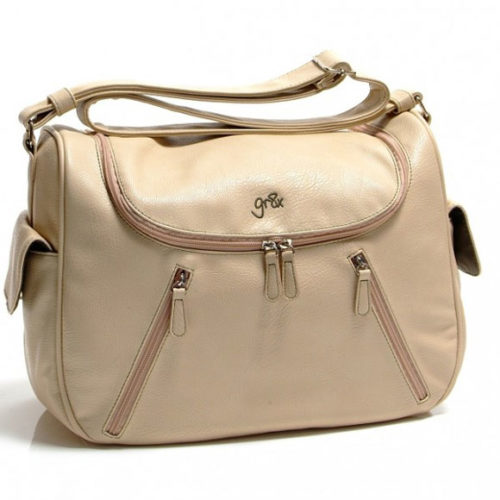 Types of Designer Nappy Bags
Tote Bags
Industry experts have introduced a line of beautiful and trendy diaper bags retaining the design of tote bags. These bags are designed with enough space and several pockets to separate the clean diapers, extra baby clothes, napkins and bottles into different sections. Whether you prefer canvas, leather or trendy designer bags, you will be spoilt by choice of tote nappy bags available in the market.
The flip side of using these bags is, it engages your one hand and can make it difficult to juggle between your baby and the bag while carrying both in your hands.
Backpacks
The most comfortable and versatile bag in terms of carrying them while you go shopping, hiking, dine-outs or even to work are Backpacks. These bags have enough pockets and can accommodate quite a lot of things without adding to your burden. Since these bags are worn over both the shoulders, the weight is not felt as much. Moreover, these bags are quite popular with the Dads as well for these styles are not limited to a gender.
The only setback with these bags is they might not be as stylish as their counterparts.
Messenger Bags
Similar in purpose and size to the other two, messenger bags are generally slung across the chest. These are most popular among dads but also designed for moms looking for convenience. Many messenger bags come with insulated bottle carriers and padded changing pads which are of great help.
Depending on your requirements and preferences, you can choose from a large variety of designer nappy bags here.
Happy Shopping!!!