People are starting to file their highlights of Eat Drink Blog that was held in the gorgeous city (and my second home!) of Canberra over the weekend. And I'm more than a little daunted at the prospect of looking at all my photos, and writing about everything.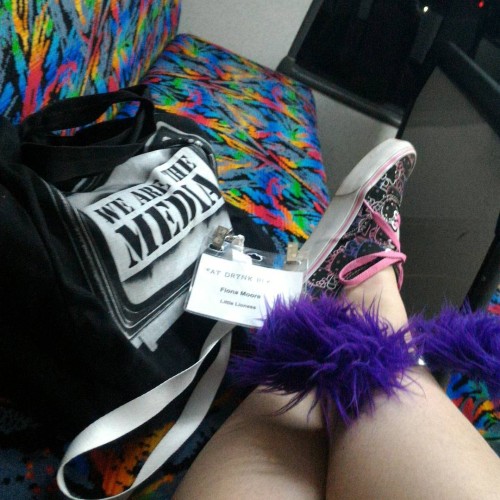 So, here's a recap of the Wine from the weekend!

A Mocktail from The Hamlet. Works well with a dash of bubbly ;)
I kicked it off with a very special (non-Canberran) Chardonnay while meeting Nicole from Champagne and Chips and Louise aka the Willunga Wino fir the first time! These are the ladies behind the monthly #winenot Wednesday linkup of awesome wines around the blogisphere. If you love wine, check out those linkups!
Louise spoilt us with her first vintage of Aphelion Chardonnay. Sourced from McLaren Vale grapes, and drinking deliciously, it's a shame it's such a rare brew!
I quickly brought out my contribution to pre-drinks and tasted the Margan 2014 Hunter Shiraz before we had to scurry off to the opening events. I finished that off last night back at home and it's amazing :)
We arrived at The Hamlet in Braddon to an amazing array of food trucks, wanting to stuff us silly (which, ZOMG, they did!). While scanning name tags, and saying hello to "internet People", I sipped on a sparkling Bransworth wine that had been bottled in Hamilton, from Riverina grapes, which is the current "end of the line" of the trains in Newcastle.
After stuffing ourselves silly it was off to 3 activities around Braddon – Glenfiddich Scotch and Food matching at Marble and Grain on Mort Street, Frujii Ice Cream, and cocktails at Hopscotch.
I actually didn't try the Scotch, but I'm told that all the scotch drinkers had their favourites from 13 to 15 years aged. I enjoyed the food and the company, and want to go back there for dinner one day!
The cocktail we were present with at Hopscotch was a very refreshing Passionfruit Mojito:
Though I was jealous of the Popsicle cocktails that the earlier groups had!
Many people piked after that, but us party people went on to some bevvys at Lucky's Speakeasy at the QT. House wine and beer, so no photos of that, but a delicious and refreshing 42 Below Vodka and Soda ended my night!
Soooo… back to the YHA it was for me, and after a short but restful sleep it was back to the conference!
After a coffee and a wander around New Acton, the Action Buses took us to the Farmers Markets, where we were given $20 in vouchers to "spend on breakfast" and about an hour to sample every thing in sight.
This is where GENIUS kicks in and Fiona spends her brekky vouchers (after stuffing herself with samples of bread and olives around the market) on a lovely bottle of Hall area Wallaroo Riesling. The 2014 was fresh, dry and crisp, so I went with that over the sweeter 2015.
Then there were talks and before we knew it it was time for MOAR FOOD at Westside Acton Park where I acquired a Turkish Chick Roll and some Collector Shiraz.
(One time, in early Summer 2005, I was driving in my Laser to Canberra when a huge hail storm hit me on the Federal highway between the Collector bridges. I found it funny watching the people trying to protect their cars from the ice, while I sat in my beautiful silver car waiting it out).
Afternoon tea saw Lerida Estate having some wines on sample. Moscato is not for me, but their whites and reds all go down a treat!
The Conference Dinner at A.Baker had several lovely Mt Majura wines on offer, all of which I LOVED (a little too much… ooops) … oh and that cute waitress above!
Starting with the bubbles!
A Pinot Gris which actually had me having two glasses of before I moved onto the TSG.
This may have seen me to a late night, and I MAY have missed the next morning's brekky…. Oh well!
i may have also gotten sidetracked on my way to the Sunday talks. All I was trying to do was poison myself with my one true love Diet Coke, while I ended up talking to the owners of the Quick & Go in the Sydney building for half and hour or more about the evolution of the Canberra dining scene and how they have such a great business going now for people buying wine to byo to the local restaurants and that their high end spirits actually do have quite a market from the visitors staying locally or visiting ANU! Lovely people! *waves*
Then, it was to my final wine event of the weekend, the Canberra Wine House at the Tradies at Dickson was putting on a tasting for some of us.
So, we all know I rave about Canberra wines, and so going to this tasting and hearing the stories from the wine makers was a MUST!
I may not have taken notes, but it was the ultimate end to a full on but completely worthwhile weekend!
Thank you SO much to the amazing organisers and sponsors! And to everyone i met for making it awesome!!!
See you in 2016??