I went to a fabulous long lunch at The Bach Eatery in Newtown. The event was for the start of PNDA (Perinatal Depression and Anxiety) Awareness Week (November 15-21). Ten ladies lunching over the "Trust the Chef" menu ($45/head or $55 with dessert), listening to some amazing women who have been through anxiety and depression brought on by, or exacerbated by, the birth of their children.
Starters

Freshly Shucked Sydney Rock Oysters & NZ Cloudy Bay Clams w/Chardonnay Vinegar

Pino's Charcuterie tasting plate

Cuttlefish, peperonata, squid ink dressing

Salt Cod Croquettes w/ Kaitaia Fire Mayo
You may have noticed that this year there has been a name change to Perinatal Anxiety and Depression (PNDA) Awareness Week. This change is in response to the importance of including two words:
Perinatal – Supporting parents' mental health throughout the perinatal period (during pregnancy and after birth). We need to consider a parent's wellbeing across this continuum, rather than viewing these periods as separate.
Anxiety – Now believed to be just as, if not more, common than depression. Symptoms of anxiety vary, however they can be just as debilitating as depression
The stories I heard yesterday and from my networks of family and friends have certainly highlighted to be the absolute terror some new parents feel upon the arrival of bub. And the isolation they feel, all the while putting on a "brave" face.
Mains

The SHINING star of our dishes – Papparedelle w/wild mushroom ragout & slow cooked egg. I kept going back for more!

Flank Steak w/ homemade "chups" & Red Wine Sauce

16 Hour Slow Cooked Lamb Shoulder w/ eggplant, roasted heirloom carrots & mint almonds – So melt in the mouth!
Chatting to the others about what some signs might be that a new mum (or dad) is struggling, Amy pointed out that the words "When did you stop breastfeeding?" from one new mum were often a red flag to say she's struggling with something. It could just be with the feeding, or the question of when to try a bottle or solids, but it can also flag deeper issues around how Mum and bub are travelling.
Sides

Kiplers & Kumara w/ fried chili, garlic and Rosemary

(Super Crunchy!!) Iceberg Wedge w/ Bach Dressing
PANDA is channeling Winnie-the-Pooh this year…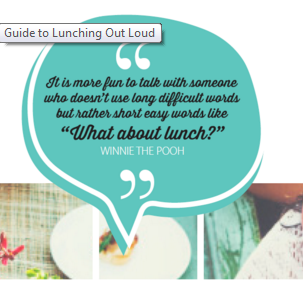 And encouraging family and friends to check in with the new mums and dads in their lives, getting them out of the house, having a meal or a coffee, and a chat.
But also to host a "Lunch Out Loud" to raise funds and awareness to support people with Perinatal Anxiety and/or Depression. Information and ideas to host your won Lunch Out Loud are available here :)
Five easy steps to enjoying your Lunch Out Loud
1. Set the date- PNDA Awareness week is officially from Nov 15-21, however you can hold your event anytime during November and December.
2. Invite guests- Invite as many people as your venue can handle- at home, in a restaurant/café or at work.
3. Use social media- Facebook is a great way to promote and plan your Lunch Out Loud. Set up and event page, invite your guests and keep them updated in preparation for your event.
4. Collect funds- you can accept donations, hold a raffle, charge an entry donation, hold a bake sale- the possibilities are endless!
5. Most importantly, have FUN – At PANDA we hear every day that parenthood is tough; friendship and support are a great first step in this unique journey.
Desserts

Hokey pokey brulee (OMG. GET THIS!)

"Jelly Tip" w/ white chocolate mousse
Funds raised from Lunch Out Loud support PANDA, which offers counseling through a free National Perinatal Anxiety and Depression Helpline, information, and referral services with ongoing telephone support for families throughout Australia.
PANDA's Helpline: 1300 726 306 (operates Monday to Friday from 10am to 5pm EST).
Lifeline: 13 11 14