Collaborative Post
Nowadays, we are seeing the detrimental effects of human activity on the environment more clearly than ever. Polar ice caps are melting, deforestation is destroying habitats the world over, and pollution is filling the air with smog and the oceans with plastic. So it's about time that we start making changes in our day to day lives that will reduce this negative impact that we are having on the planet. Make a significant start by making your home more sustainable! Here are a few ideas to try out.
Opt for Sustainable Building Materials
Let's start with your property itself. Materials like Australian Sustainable Hardwoods are a great building material that you should make as much use of as possible. Whether you are building a property from scratch, plan on extending, or simply want some new decking or a shed for the backyard. This material can be harvested and regrown with maximum efficiency and in a safe manner. Not only will it have a much better impact on the environment than other building materials, but it looks great too! It's a win-win situation that will leave smiles all around.
Source Furniture Locally
Every year, huge amounts of non-renewable fuels are used in the transport of furniture across seas. So why not cut out the excessive delivery distances and source your furniture locally. There are plenty of brilliant options out there, and many will be much closer than you think. If possible, opt for recycled, upcycled or vintage goods. The more use we get out of a single item, the less waste we produce. Check out charity stores and vintage flea markets or antique furniture stores nearby for some truly unique pieces to add to your interior decor.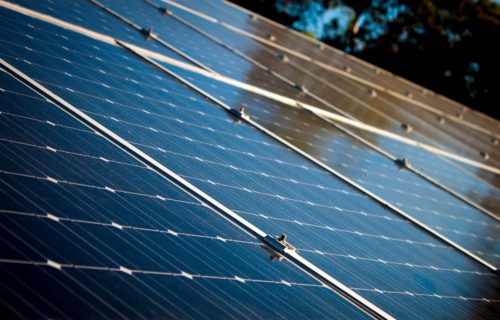 Use Renewable Energy
There are plenty of renewable energy options that can fuel our homes. So why do so many of us still opt for non-renewable energy sources? Solar panels are one of the most popular options available and are extremely effective, especially on shores like ours where the sun shines more than most places. It can generate sufficient energy to heat your water, power your air conditioning, and even run your oven. Alternatively, you could opt for wind turbines or hydropower.
Consider Bamboo Flooring
Instead of standard wood flooring, why not consider bamboo flooring. Bamboo is perfect for floors aesthetically and has the added bonus of being one of the most sustainable materials imaginable. While trees can take years to grow and establish themselves, bamboo is much faster growing. While it may not be ideal for hardy tasks such as forming exterior walls, it's just as good for flooring as any laminate. If you find that you're fond of bamboo as a material, you can also use it for various other things around the house, such as shower walls (as opposed to plastic shower curtains) or even reusable drinking straws. The possibilities are pretty much endless!
These changes may seem small, but they will make a significant difference. If everyone tried out just one or two, the changes made to the planet would be profound. So, start living as eco-friendly a lifestyle as possible from today.