Silhouette Shades: Do They Really Work?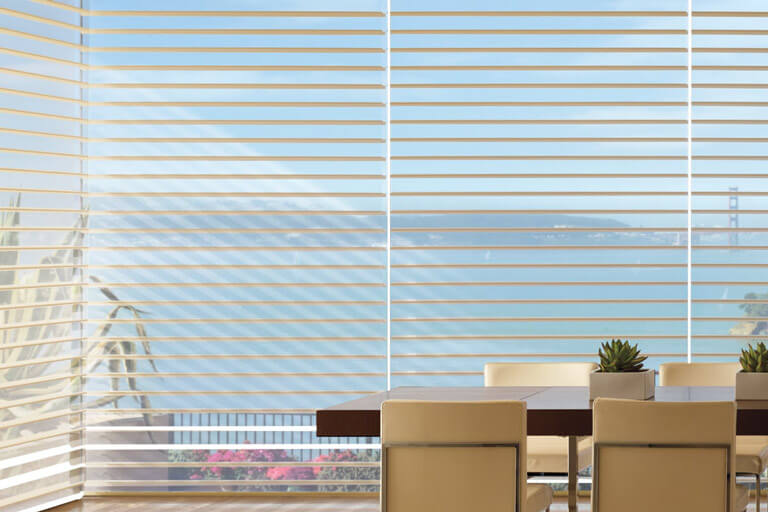 Your home's lighting should reflect your mood and personal preferences. You should have complete control over how much or how little light enters your home. You may want to reduce or increase the amount of natural light in your rooms depending on the time of day or the event using an easy fit blackout blinds.
Reduced lighting is required for a romantic dinner, total darkness is required for a mid-afternoon movie session, and full sunlight is required for an early morning coffee break.
However, using curtains or drapes, it can be difficult to get every light combination. Curtains can be sheer or blackout, but there is rarely a mid way between the two. To allow the proper amount of light into your home, a more dynamic solution such as silhouette shades is a preferable alternative. Color, design, and density are just a few of the possibilities available with Silhouette shades.
Why Use Silhouette Blinds?
Silhouette blinds are distinguished by their amazing ability to allow a little amount of natural light to pass through the window even when the blinds are closed. Hunter Douglas and Levolor are two of the most well-known Silhouette blinds producers.
Silhouettes are preferred by homeowners as window coverings because they blend the finest of micro blinds and cellular shades. Your windows will appear lovely with Silhouette blinds, whether they are open or closed.
Silhouette blinds are made of a delicate fabric that allows light to pass through. You may adjust the angle of the slats to get the shade you want for yourself and your furniture.
Despite the fact that light can pass through Silhouette window blinds, no one outside the window can look in. As a result, Silhouettes by Hunter Douglas provide you with the privacy and light you require.
Silhouette Shades provide a variety of options.
When it comes to choosing the ideal hue for your house, you have a lot of options. For light filtering, silhouette shades are an excellent solution. They can lessen sun glare on your windows, and these unique textiles are available in 12 various designs and over 100 different colors to complement your house while still allowing you to let in just the proper amount of light.
Choose a deeper tint for a more formal look, or a lighter tint with the knowledge that the transparent fabric at the rear of the shade will provide privacy. Silhouette shades are the ideal window solution for those who want to keep things simple.
They have a sleek and sophisticated appearance while providing sun protection and privacy from inquisitive eyes. Your windows will look great with custom silhouette blinds. You have the option of selecting the color and opacity that best complement your interior design plan.
There are four different operating systems to choose from (including cordless), as well as the popular Duolite option. Specialty window forms are also available, and these shades are developed and custom-crafted in the United States and come with a Hunter Douglas lifetime limited warranty.
Silhouette blinds are fully enclosed within the head rail when raised. This allows you to have a large open window with no blinds in the way. The Silhouette window blinds may be lowered to various levels or completely closed.
The shades of Hunter Douglas' Silhouettes are available in a variety of fabric colors. The window blinds themselves are available in a variety of sizes, and if you have a window with an unusual form, Hunter Douglas may custom build a Silhouette blind for you.
When you purchase Hunter Douglas Silhouette blinds, you can select the type of material you want for your blinds. Choose from Hunter Douglas' Silhouettes in crinkle textured fabric, vivid colored sheers, or the linen texture if you prefer. The top down/bottom up ability of these blinds are a unique feature.
Final Word
Silhouette blinds can be raised or lowered using a number of different ways. Silhouettes by Hunter Douglas include the typical cord loop, but you can also purchase them as motorized window blinds.
With the press of a button, you can raise or lower the blind and rotate the slats to the precise angle you choose. When the vanes are closed, Silhouette blinds block up to 99 percent of the sun's UV rays, and when they are open, they block up to 63 percent.
Read more: The Best Pieces for your family's Summer Wardrobe