Still keeping all photos on your smartphone? Here is a better idea.
Before we move forward to picture storing tips, I would like to share with you an interesting find – a reliable discount printing provider that can turn your precious photos into stunning wall art and help you decorate your home with cherished memories.
SUMMER SALE
Shop Now:  Canvasdiscount.com
Print your favorite photos as beautiful wall art and fun photo gifts at the lowest prices at CANVASDISCOUNT.com. You can print your favorite images on photo canvas prints, canvas collages, acrylic, metal, photo boards, photo tiles, towels, pillows, blankets, acrylic blocks and many other printing media.
Pictures are more than just a combination of colors on a piece of paper or data on a computer. They are artistic creations that depict real-life events, and that's why images are very meaningful to us, and losing your images is the worst thing that can happen. Losing pictures is especially terrible for people working professionally in the field of photography. You can lose your job or have your reputation damaged. And even though amateurs don't risk ruining their reputation because they lost some photos, losing precious photos is an upsetting experience that any person would like to avoid.
That is why keeping a copy of your images is so crucial. Take a professional approach to photo storage even if you're not a trained photographer. You'll be grateful for it later.
We've compiled a list of the top 2022 options for digital photo storage. Check it now!
What Could Go Wrong with Digital Photo Storage?
Digital picture storage is very different from shoebox storage of 35mm shots. There are more variables at work, and many things can go wrong at any time.
Memory cards are small and easy to misplace. Phones and computers might malfunction at any time. Your whole body of work may be destroyed with just one cup of coffee spilled. That's why when preserving your images, you can never be too careful.

Top Methods for Storing Digital Photos in 2022
 Here is our ranking of the top picture storage options to help you keep your photos safe.
Don't Depend on Memory Cards for Image Storage 
The storage capacity of memory cards keeps expanding. These days they can store hundreds and even thousands of images. Additionally, many professional cameras feature ports for two memory cards.
You can now keep a lot more photographs on your camera thanks to these improvements. However, it's not a good idea to leave all the pictures on your memory card.
You risk filling it up at an undesirable moment if you lose track of how many images you already have stored there. You might need to remove existing photographs in order to take new ones.
The memory card itself is the main issue. Despite having a large storage capacity, they are very little in size. And tiny equals losable. It is thus advised to transfer the images as quickly as possible to another device after you take them.
This is simple with contemporary digital cameras. Many latest models let you send files over Bluetooth or WiFi from the camera to another device.
2)Keep your pictures on external hard drives.
You might think that your images are secure once they are on your computer. But trust us, they aren't!
Modern photography requires computers and laptops, which are excellent instruments. However, they are weak. They may sustain harm by being dropped or have anything spilled on them. Another issue is theft. Technical problems like viruses might also arise. Sometimes, the only way to fix a software issue on a computer is to completely wipe it. That also applies to your images.
An external hard drive is therefore just as crucial as your real device in this situation. Thousands of picture files and hours of video may be stored on a hard disc. They are excellent for storing invoices and other documents in addition to being one of the finest methods to keep images.
You can transfer the pictures by plugging a USB cord into your device. So even if the worst occurs to your computer, your images will be kept in safety.
3) Cloud-Based Photo Storage 
Use online cloud services to prevent cluttering your home with electrical equipment. The only difference between a cloud storage system and an external hard drive is that the latter is online. USB cords are not required here!
Cloud storage options are self-explanatory and simple to use. You need to move the files to the cloud by copying them from your device. After that, you may log in and access your files from any device with an internet connection.
Many cloud storage platforms provide free space. Although Dropbox is great, its free storage space is just 2GB. Another fantastic cloud storage option with 15GB of free storage is Google Drive.
Additionally, there are specialized cloud picture services like Google Photos. It makes it simple to organize and save images taken on all of your mobile devices.
4)Save Your Photos as Email Attachments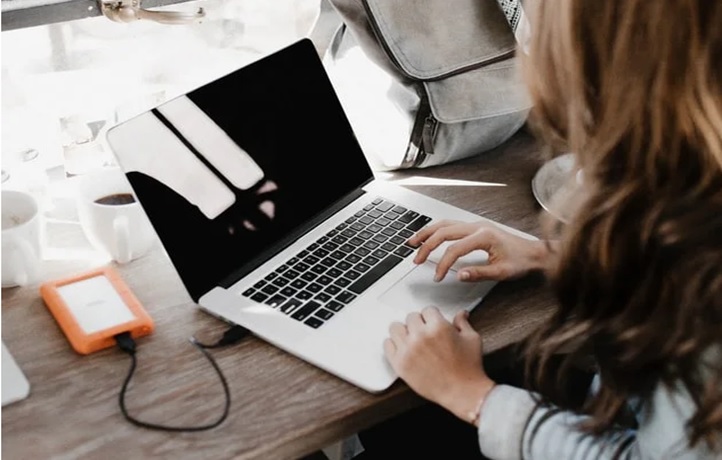 Email is a fantastic tool for maintaining connections and exchanging data electronically. But you can also store files and images on it.
Draft an email, include the pictures you wish to save, and send it to yourself. You can send emails between your two email accounts if you have them.
The issue with this approach is how little storage space emails have. Only a few photographs can be included to each email. You'll be emailing yourself a lot if you want to use this method to store a lot of images.
Your photo folders can be compressed into zip files to make them smaller. You'll be able to send more details in each email. Still, it's hardly the best option and is better used as an emergency solution in unexpected situations.
5)Print Your Favourite Photos and Put Them on Display
Most images captured with a digital camera or smartphone only have a digital existence. Rarely are they turned into actual prints.
However, printing pictures is a terrific method to keep them safe. You'll have a duplicate of the image that you may show in addition to a backup in case the original digital file is lost.
You may frame and hang your printed pictures in your house. A photo album is another option. You'll be able to open it and flip through your most precious memories at any time.
You can even print some of your pictures at home if you have a high-quality printer. Alternately, you might bring your files to a photo store and have them printed on professional photographic paper. We also recommend using professional online printing services – many of them now offer photo prints at amazingly low prices without sacrificing quality.
Conclusion
There is a number of ways to keep your photos safe. We hope our list of the top picture storage options has helped you figure out how to minimize the risks and find the option that works best for you.