Want To Upgrade Your Balcony Design? Here are 7 Ways To Help You Out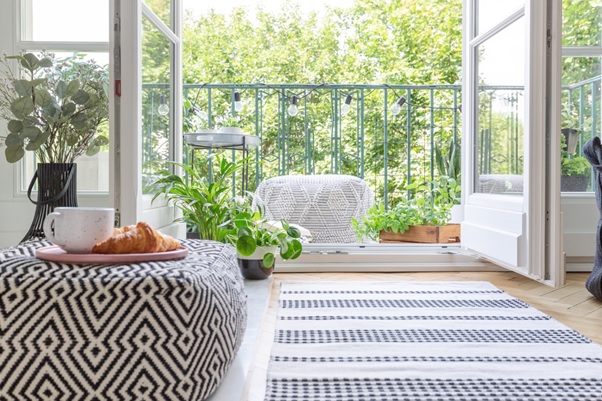 Most city dwellers yearn for private outdoor space, even if it is only a small balcony. (Or, let's be honest, a fire escape.) If you're fortunate enough to have a balcony, you owe it to yourself—and all your friends—to take advantage of it. This entails more than simply setting up a lawn chair and calling it a day. Your balcony, no matter how small, has a lot of design potential. Looking for balcony design ideas? Continue reading to discover 14 balcony ideas and learn how to completely transform your outdoor space.
How About an Outdoor Kitchen Space?
Pizza ovens have grown in popularity due to the desire for alfresco dining. In addition, built-in outdoor kitchen designs are quickly becoming a must-have garden feature. However, just because you have limited space does not mean you have to miss out.
Choose a flexible, small, and affordable creative kitchen station for your balcony design so that you can enjoy the outdoor space with your family and friends.
Make certain that all necessary items, such as mugs and ceramics, as well as pizza ovens, are included. To really set it off, you could consider an outdoor fireplace; you can take a look at these fsbd customer fireplaces to get an idea of what could complement your space. Not only will this look great, but it will make the space more usable during the chillier evenings too.
Set Up a Bar Cart
Set up a bar cart in your front balcony design with everything you need for outdoor entertainment. In addition to your standard cocktail-making supplies, include a few accessories, such as a potted plant or framed paintings.
If you are concerned about your dishes breaking, use drinkware made of strong, shatter-resistant materials such as melamine, polycarbonate, or stainless steel. When you're done partying, choose a cart with wheels that you can easily roll back inside.
Get Some Privacy
If your front balcony design faces the street or backs up to other buildings, complete isolation will be difficult to achieve. There are, however, a few simple techniques for creating a more private environment.
To protect your balcony, place tall plant pots along the railing or drape a row of plants with hanging branches. Another simple option for filtering bright light and views from nosy neighbours is to use outdoor curtains.
Choose Furniture Wisely
Decorate your outdoor space with pieces that are proportional to the size of the space. Trying to cram too much furniture onto a small balcony decoration ideas is a recipe for disaster.
Instead, consider armless recliners, bistro desks, and small side tables with elegant, low-profile shapes. Sturdiness is another important factor to consider when designing a balcony.
Look for weather-resistant materials such as aluminium, magnesium alloys, resin wicker, polyethylene, or mahogany in furniture and accessories.
Consider Vertical Gardening
Consider going up and learning how to decorate your balcony with less space if you're running out of floor space. If you're a keen gardener with a screened porch, vertical planting systems are a fantastic way to make the most of your terrace, and they can also be used to hide unsightly walls.
Fabric hanging planters made of a series of slanted pouches, as well as plastic plant pot solutions, are available to buy.
It also has a low-cost self-watering drainage system, with one pot flowing into the one below while still allowing for storage.
A Miniature Garden
Deem your balcony to be a mini garden, and invest in a variety of moulded planters and bins to keep your balcony design interesting all year.
Plants can help to screen your balcony from passers-by, giving you a more private outdoor space to enjoy.
Pots and containers can be used to start a small organic farm or to grow vegetables like tomatoes.
Your Balcony Design Will Look Beautiful in Monochrome Tones
In a small space, simple garden colour schemes can work wonders. Basic monochrome is always a good choice for a timeless look. Pair neutral flooring with complementary accessories to create a stylish space that will never go out of style.
Porcelain floor tiles are a great way to make your outdoor space look more inviting. They're long-lasting, non-slip, and simple to clean, and they can quickly add a pop of colour or pattern to any room.
Choose a balcony design that goes well with your personal style. For example, vintage flower motifs add movement and a touch of traditional elegance. Mono geometrics also have a sharper, more urban feel to them, which goes well with greenery and cool metallics.
Get to the Deets
If you will not have time to maintain potted plants, a shaped or coloured rug and vibrant furniture will instantly add pizazz to your space.
For the backdrops of your scheme, choose spectacular geometric forms in monochrome shades that will work with a range of colours.
Include holiday-inspired furniture in tropical tones for a daytime look that will brighten your day every time you step out onto your balcony.
I believe your question of "how to decorate your balcony" has been answered after reading this article. So, are you ready to transform your drab outdoor space with our inventive balcony decoration ideas? Let's get started right away. But while these tips are enough to get the ball rolling on your balcony design renovation, you might need expert help if you wish to go for a complete full-blown makeover.
This is where professional interior design firms such as Livspace come into the picture. Livspace is one of the most well-known interior design companies in the country and has years of experience in decorating and designing homes. So, what are you waiting for? Visit their website to book a free consultation today!
Read more: Online Gambling in Florida – the full guide