A Helpful Guide to Live with an External Fixator System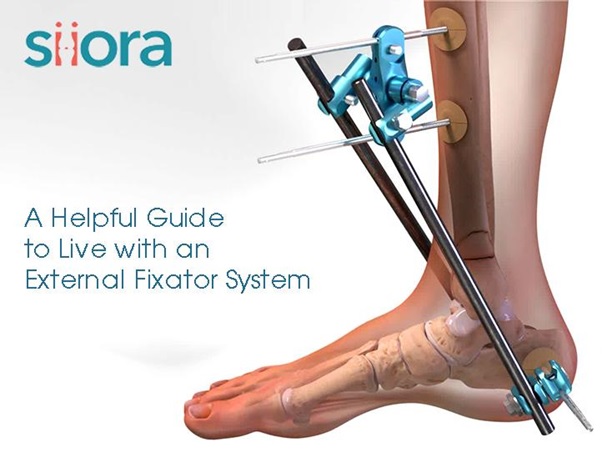 An external fixator system is a type of orthopedic device that is used for the surgical fixation of fractures and other orthopedic conditions. It is a type of special orthopedic implant that remains outside the body, unlike the ones that are placed inside. This is why an external fixation device is considered different from others.
An external fixator system is used in special cases where other orthopedic implants cannot be used. Such cases generally include open fractures and bone deformities. This orthopedic implant is designed in a way that allows the doctor to manipulate the positions of the affected bones from the outside and keep them in a good position.
Now, the point to be considered here is that an external fixator system is made of a number of orthopedic implants that help the surgeon create a stabilizing frame around the affected limb while keeping injured/affected bones in their true anatomy to ensure proper healing. The structure of the implant makes it difficult for the patient to manage with that.
In this post, our concern will be to discuss how one can manage daily activities with an external fixator in place.
How to Perform Daily Activities with an External Fixator on Your Body?
It is tiring to carry a huge frame wherever you go and to perform daily activities, certain adjustments are required to be made. Let us see what those adjustments are:
Bathing
Some people with an external fixator in place find it difficult to take a bath daily plus, fear of infection at pin sites. Let us tell you that having a shower with an external fixator should not be the point to worry as you can bathe daily without any fear. But a few points that you should keep in mind include:
Avoid using perfumed soaps and body washes
Avoid submerging the frame in water
After the bath, don't forget to thoroughly wipe the water using a clean and dry towel.
Wearing clothes
If the frame that is applied around your limb is small, it won't be much difficult for you to wear clothes as oversized trousers or t-shirts will fit easily. The problem arises when the frame is large as in such cases, special clothes are required to be stitched. Such clothes are stitched having Velcro fasteners at the edges to ensure easy opening and closing. Make sure to get these clothes stitched perfectly to avoid any problems.
Sleeping
Now another major problem that arises with an external fixator system in place is while sleeping. Yes, it is very uncomfortable to sleep with that frame, at least for 4-5 days at the start. After that, the person becomes familiar with his/her situation. If required, one can place pillows below the frame for comfort. The metal frame also poses the risk of damage to the mattress and to prevent that, one can use a mattress protector.
Having Intercourse
One of the best things here is that an external fixator system on your body should not prevent you from maintaining a good relationship with your partner. You can have normal sex with your partner but with slight adjustments in the positions to prevent any injury to any one of you.
For an international standard quality range of orthopedic implants and instruments, contact Siora Surgicals Pvt. Ltd., an experienced orthopedic device manufacturer in India. The company is known to serve hundreds of global clients and to expand its reach, Siora never misses an opportunity to exhibit at international medical trade fairs. This year, the company is going to exhibit at the FIME Trade Show.
Read more: Dos and Don'ts After Orthopedic Surgery