TOP TRENDING INDIAN DRESSES THAT REMAIN IN FASHION FOR LONG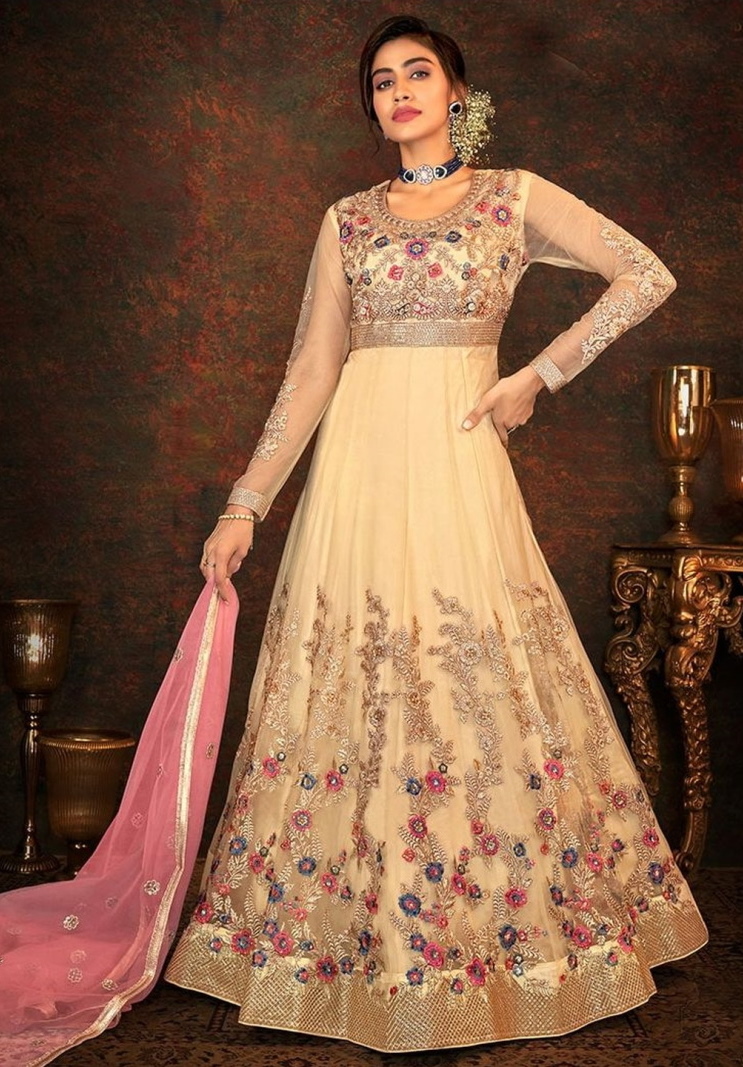 Many Indian dresses are trending today, but only a few will remain evergreen for long. The following Indian dresses are here to stay.
Introduction
Although Indian dresses are popular worldwide, some designs get out of fashion sooner. So one has to be careful when buying new or latest trends. But the good thing is that you can find trending Indian dresses that are expected to remain fashionable for the longest time. You just need to research, and you will easily find them online or in physical boutiques. When you buy these dresses, you can wear them for years without feeling ashamed or old-fashioned. Keep reading to learn about these latest Indian dresses expected to remain in fashion for long.
Embroidered Art Silk Saree
This is a trending saree that has caught the fashion industry by surprise. The outfit is designed by Sulakshmi brand, and every stylish woman wants to have it in their closet. The outfit features a big unstitched silk fabric and an unstitched blouse. But you can get a pre-stitched blouse, petticoat, and saree at additional fees. The attire comes in different colors, like gold and orange. One thing we like about this saree is that it has unique embroidery work along the borders.
It is worth noting that the saree is extremely comfortable and durable. You only need to learn how to drape it around your beautiful body, and you will look amazing whenever you wear it. But remember to pick a fifing size.
Designer Chiffon Embroidery Salwar kameez
If you want stylish attire for a party or special occasion, you should choose this latest salwar kameez by Tawakkal Brand. The chiffon salwar kameez features an embroidered top made of chiffon and net. The top has net long sleeves with beautiful embroidery work. Surprisingly, at the bottom of the top, there are fine flowery details and elements that make it look more stylish.
The salwar is dyed and blends well with the top. It is accompanied by a fancy net dupatta that matches the kameez. The dupatta is also embroidered and has some unique details matching those on the top. This hot salwar kameez has already attracted many buyers from all over the world, and many designers and fashionistas say that it will remain evergreen for an extended period.
Real Georgette – Anarkali Suit
This Anarkali dress is green in color but is available in other colors. It is one of the most sought-after Indian dresses for special occasions and upcoming Diwali. The top is made of real georgette fabric, making it flexible and comfortable to wear all day. The top has fancy embroidery work around the neck section and at the bottom border lining, making it stand out. It also has some artwork on the net sleeves. The bottom is made of georgette while the inner part is made of silk santoon. The dupatta matches the suit and has the same embellishment patterns.
Top designers and fashionistas say that this outfit will stay in fashion for a long time as a result of its color, simple design, and simple embellishments. They added that it is designed to suit different occasions, from weddings to traditional festivals. As a result, it can withstand competition and remain on top for many years to come.
Net & Silk Embroidery Lehenga Choli
If you want to wear something trending on that upcoming wedding and still wear it for many years to come, you should get Net & Silk Embroidery Lehenga Choli by Alizeh. The outfit has unique thread and stone work, making it look more stylish and modern. The inner part of the choli is made of silk, while the outer layer is made of a net with embroidery. Note that the top has net sleeves with stone work. The top leaves the midriff section exposed. But if you don't want to show off too much skin, you can use a dupatta to cover the area.
The lehenga is long and can touch the floor. As you know, floor-length skirts have taken center stage in the fashion industry. This lehenga is a perfect example of a floor-length skirt and will be a great addition to your wardrobe. The lehenga has thread and stone work all over. The dupatta also features the same embroidery work along the borders. You can wear this outfit to weddings, parties, and other events.
Art Silk & Net Embroidery Lehenga
This is another lehenga choli by Alizeh that has made it to the top list of Indian dresses likely to remain evergreen for the longest time. The lehenga choli comes in different colors, but we have picked a bluish one. The top is short-sleeved and has a unique round neck design that allows you to showcase your expensive necklace. Both the lehenga and choli have flowery embroidery work and patterns. The patterns are also visible on the dupatta borders. Both the lehenga and blouse are made of art silk, while the dupatta is made of net.
Fashionistas and top designers expect this Indian dress to stay in fashion for long thanks to its simple design that women of all ages can wear. Additionally, the design allows the wearer to wear more pieces of jewelry. Most importantly, it looks amazingly beautiful and fits well in modern fashion.
Expert Tip
If you want to buy a trending Indian dress that you can wear for many years, you need to consider the fabric, print patterns, and embellishments. Choose a durable fabric that can withstand wear and tear. Also, choose one with unique patterns and colors that look good on you. As a result, you will also look unique and beautiful whenever you wear it.
Final Words
If you like wearing the latest and trending Indian dresses, the above new arrivals will make you smile. The outfits are unique and stylish and are expected to remain in fashion for a long time. You can find these latest ethnic outfits at the leading online stores. Additionally, some high-end local boutiques can have these trending Indian dresses. Buy some, if not all, of the dresses, and you will thank us later.