8 Reasons Why Small Trailer is Perfect for Camping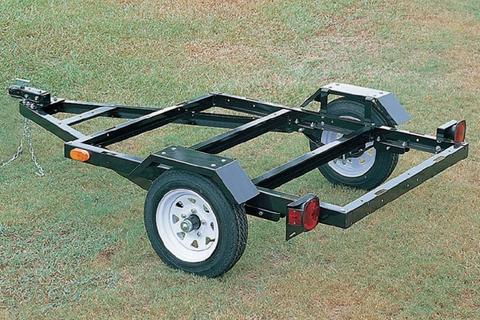 Most of us plan to spend our holidays visiting new destinations or exploring different terrains. Well, a great way to spend time outdoors is through camping. Several people love to camp in far-fetched areas and enjoy the natural beauty of their surroundings.
However, living in the open can be troublesome. You won't find a decent place to sleep or a clean washroom. Nothing is available near camping sites. In such circumstances, having a small or mini trailer could be an ideal option.
The small trailer will allow you to enjoy the camping experience without discomfort. That is why individuals who frequently visit camping areas, recommend other campers to get small trailers. You can solve most of your problems when you have a small van.
Easy to Tow
One thing is clear a small-size trailer is towable. Usually, people purchase huge RVs, which offer fewer benefits and are tough to move around.
With a small trailer, movement doesn't remain an issue. For example, if you get the Rockwood 2509S, you can travel without worries because your car can easily tow it. A compact trailer is always more favorable.
Often people with mini-vans can't enjoy camping because their cars don't support the weight of a large trailer. However, with the availability of small trailers, things have changed. Now anyone can easily enjoy trailer camping.
No Need for Tents
If you camp frequently, you will know that you need tents. It isn't comfortable, and the uneven ground can cause a sore back. Even if you lay mattresses, the situation doesn't improve. Luckily, with a small trailer, you will not need tents.
Instead of lying down on the ground, you can rest within the bed of your mini trailer. You get a cozy bed, ample leg space, and better sleep. If you have kids, they can also peacefully sleep in the bed, or you could make them lie down on the floor.
Either way, a small camping trailer is a much better option. You can enjoy the natural beauty of your surroundings without compromising on your comfort.
No Setup or Pack up
If you opt for any other option than a small trailer, you will need to set up the entire premises. You will need to make beds, arrange a fire and do much more. The list can be long and tiring. However, with a camping trailer, most of your work is done.
Everything in a trailer is already in its place. You only need to tow your trailer to the location and start enjoying your time. Once you're tired, you can get up and leave. There isn't any packing or cleaning involved. So you get more time to relax and feel fresher.
Proper Facilities
Another reason for purchasing a small trailer for a camping trip is that it allows you to enjoy basic facilities. For example, a trailer has a kitchen and a washroom. Both of these things are a necessity.
Cooking outdoors on bonfires isn't as easy as it may look. First of all, chopping ingredients becomes impossible. Secondly, the cooking time is too long when using natural fire. Instead of exhausting yourself in front of the fire, you can opt for an easier option.
You get a fully functional kitchen with cabinets, a stove, and shelves. There is space for a mini-fridge, so you get chilled beverages to enjoy with your meals.
Similarly, you get a separate washroom. It's a decent size restroom where you at least have privacy and a proper flushing mechanism.
You can Make Money
Investing in a small trailer is an expensive decision, but it can pay off in the future. Yes, that's right, a small trailer doesn't only come in use for your trips, it can also be rented. If you don't plan to go anywhere in the coming months, you could rent it out to a friend or somewhere online.
These days, several people are interested in renting things instead of buying them. You can take advantage of the situation and earn cash in your free time. It can make you some money in the longer run.
More Luxuries
Camping doesn't mean that you have to sacrifice your lifestyle or comfort. If you like watching TV or want to continue living in a similar luxurious environment, you should opt for camping trailers.
With a trailer, you get all the luxuries in one place. Whether you need to keep your bikes with you or your books, you can store them in a cabinet in your trailer. Moreover, you could install a mini screen and watch Netflix whenever you feel bored.
Safer and Cozier Atmosphere
A trailer ensures that you get a safe and cozy atmosphere. Your trailer has a temperature-controlling mechanism that keeps the conditions pleasant. Sadly in tents, no one can do anything about the weather.
Moreover, you are safe within a trailer as it is closed. The main door is locked, and you don't put yourself at any risk. After all, one can never know what kind of dangers lie in the open space.
Low Maintenance
Small trailers are a better investment for campers because they require lesser maintenance. From the tires to the engine, everything is more economical to replace. Since the size of the van is smaller, you need to cater to lesser parts.
READ MORE:  5 easy ways to optimize the speed of your online store on Shopify