French Foodie in Dublin Irish Food Blog Tours and Events
you know about French Foodie in Dublin Irish Food Blog Tours and Events?
Introduction:
The "French Foodie in Dublin" blog aims to provide a distinct viewpoint on Dublin's food scene. This blog features culinary excursions and events that allow readers to explore and enjoy Irish cuisine through the eyes of a French foodie. The site strives to bridge the gap between French and Irish culinary traditions through cultural exchange and gastronomic research.
Dublin's Exciting Food Scene:
A Culinary Fusion of Flavours and Culture
Dublin, Ireland's capital city, has a thriving food culture that represents the country's rich culinary tradition as well as growing gastronomic trends. This section delves into Dublin's numerous gastronomic options, highlighting its distinct blend of traditional Irish food, international influences, and new culinary inventions.
Traditional Irish Cuisine with a Contemporary Twist
Introducing traditional Irish delicacies such as Irish stew, colcannon, and boxty.
Contemporary interpretations: highlighting restaurants and chefs who put a modern twist on traditional Irish dishes
Farm-to-table revolution:
Discussing the importance of locally sourced ingredients and environmentally friendly practices
Fusion Cuisine with Global Influences
Dublin's cultural diversity: Investigating the city's multicultural population and how it affects the food scene
Flavours from throughout the world:
Featuring restaurants serving international cuisines such as Italian, Indian, Chinese, and Middle Eastern.
Fusion cuisine:
The creative blending of Irish and international flavours to produce one-of-a-kind culinary experiences.
The French Foodie's View: A Combination of French and Irish Gastronomy
The blog's French Foodie Perspective section digs into the author's origins as a Dublin-based French cuisine aficionado. It delves into how the author's French culinary experience informs their approach to Irish cuisine, resulting in a distinct combination of flavours and cultural respect.
A Culinary Tour of France and Ireland
The author's French heritage:
Describes the author's background and exposure to French cuisine.
Moving to Dublin:
Sharing the author's move to Dublin and discovery of the local food scene
Bringing culinary traditions together: Discussing the author's use of French culinary skills and Irish elements to produce unique recipes.
Examining the Similarities and Dissimilarities
Ingredients that are commonly used: highlighting items that are common to both French and Irish cuisines, such as potatoes, dairy products, and shellfish
Contrasting tastes:
The distinct flavour profiles and seasoning preferences of French and Irish meals are discussed.
Cultural influences:
Investigating how historical, geographical, and cultural variables determine both countries' culinary traditions.
Investigating Irish Food Tours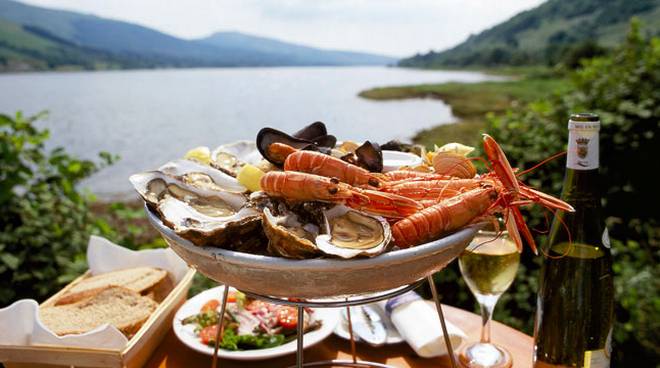 Exploring Irish Food Tours are immersive experiences and guided tours offered in Dublin that allow tourists to dig into Ireland's rich culinary heritage. These culinary tours offer a one-of-a-kind opportunity to explore local markets, sample traditional meals, engage with food producers, and learn about the history and culture of Irish cuisine. They are intended to provide participants with a complete and authentic culinary experience that highlights the richness and flavors of Irish food.
Irish food blog tours and events are carefully crafted outings planned by Irish food bloggers with the aim of discovering and exhibiting the nation's culinary scene. To provide attendees with a thorough grasp of Irish cuisine, regional specialties, and the dynamic food culture in various areas of Ireland, these activities combine elements of culinary tours, tastings, and cultural discovery.
Irish food Blog Tours and Events Explanation:
Guidance in Culinary Activities:
Food bloggers with extensive knowledge and a strong passion for Irish cuisine frequently lead tours and events focused on Irish food blogs. They serve as guides, imparting knowledge of the regional food scene and designing special gastronomic experiences for visitors.
Regional Exploration:
These tours and activities frequently focus on specific regions of Ireland, allowing attendees to learn about the unique flavors, ingredients, and culinary traditions of each region. The trips deliver a localized and authentic experience, whether it's visiting the seafood-rich coastlines, digging into traditional country meals, or discovering the busy food markets in urban centers.
Visits to Food Producers and Artisans:
Many Irish food blog tours include stops at local farms, food producers, and artisanal businesses. This allows participants to learn about traditional farming methods, meet the people behind Irish food items, and develop a better knowledge of the artistry required in producing high-quality Irish foods.
Tastings and Sampling:
Participants are given the opportunity to sample a variety of Irish foods, drinks, and artisanal goods during the tastings. As they indulge in various regional delicacies and savor traditional Irish dishes, locally made cheeses, handmade beers, and whiskies, they may fully experience the tastes and textures of Irish cuisine.
Culinary Workshops and demos:
Irish food blog tours frequently include interactive aspects like cooking demos or workshops. These classes give participants practical cooking instruction, educate them on traditional Irish cooking methods, share recipes, and let them make their own Irish dishes while being guided by regional chefs or food specialists.
Cultural Context and History:
The goal of Irish food blog tours is to give participants a better appreciation of the cultural and historical components of Irish cuisine. Guides provide stories about the origins of traditional meals, the impact of diverse cultures on Irish cuisine, and the historical significance of specific ingredients, forging a connection between food and Ireland's rich legacy.
Networking and community building:
Irish food blog tours and events frequently attract fellow food aficionados and participants who share a passion for learning about the culinary world. These gatherings provide opportunities for networking, sharing experiences, and forming a community of people who appreciate Irish cuisine and its cultural relevance.
The flavors, customs, and history of Irish cuisine can be discovered and appreciated in an original and engaging way through Irish food blog tours and events. These trips provide guests with a fascinating and instructive culinary experience in Ireland by combining guided exploration, tastings, workshops, and encounters with local producers.
Food-related Events in Dublin
Culinary events in Dublin include a variety of food-related get-togethers, festivals, tastings, and pop-up dining occasions that honor the city's varied culinary scene. These gatherings give residents and guests the chance to sample distinctive flavors, try new foods, and become fully immersed in Dublin's thriving culinary scene.
Food as a Means of cultural exchange
Investigating the Meeting of French and Irish Culinary Traditions
Discussing the author's discoveries of similarities and differences between the two cuisines. highlighting the importance of food in cultural interchange and promoting greater cultural understanding.
The Blog's Highlights:
Personal Perspective:
The blog offers a distinct perspective based on the author's French heritage, providing insights into the cultural interaction between French and Irish food.
Detailed reports of Food Tours and Events:
The author provides detailed reports of food tours and events, allowing readers to practically experience the flavors, atmosphere, and highlights of each culinary journey.
Culinary Exploration:
The site encourages readers to get out of their comfort zones and explore Dublin's diverse food scene, fostering a sense of gastronomic adventure and discovery.
Engaging Writing Style:
To engage readers and provide an immersive reading experience, the author uses vivid descriptions, personal experiences, and narrative tactics.
Curated Recommendations:
The blog recommends must-see food tours, events, and local establishments in Dublin, providing a reliable resource for both foodies and travelers.
Conclusion:
The "French Foodie in Dublin" blog is an excellent resource for anyone interested in learning about Irish cuisine from the perspective of a French foodie. By highlighting food tours, events, and cultural interaction, the site encourages readers to embrace culinary exploration, celebrate varied flavors, and gain a better understanding of Dublin, Ireland's bustling food scene.