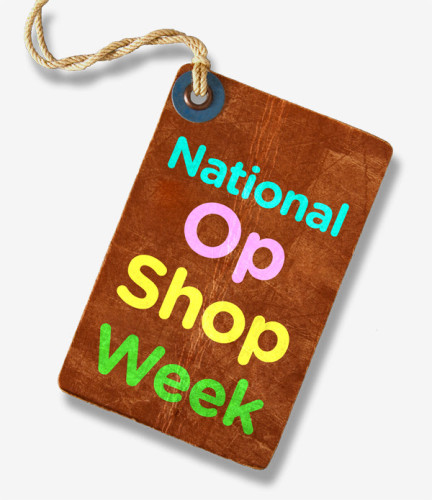 Happy National Op Shop week!!!
Red Cross, Salvos Stores and Vinnies are just some of the leading charity op shops involved in this year's National Op Shop Week. Along with the rest of Australia's charity op shops, they receive a large amount of donations to help them with their community work.
In 2012 alone, over 300,000 tonnes of clothing and household goods were donated via charity op shops and collection bins. Each year, around 2 billion donated items are processed and sorted by charity recyclers. It shows how generous Australians can be.
To find out why Australians donate to charity op shops and why we're shopping at them, new research has been commissioned for this year's National Op Shop Week (August 23rd-30th).
What type of people shop at Australia's charity op shops?
Contrary to popular belief, op shops are visited by a broad cross section of society.
The new research shows that 28% of op shoppers earn less than $35,000 per year. A surprising 30% earn more than $75,000 per year. People who earn between $35,000 and $75,000 made up another 31% of the op shoppers.
What are people buying and why?
Clothing and accessories are bought by 63% of op shoppers, followed by household items (53%), and books and magazines (29%). The thrill of the hunt also attracts 30% of the op shoppers.
Kate Dear from Red Cross says "It's surprising how many people come to op shops not just for utilitarian items, but to rummage for treasures. Many valuable and interesting items are donated to op shops every day, and finding them can be a real attraction for people."
Jon Dee, founder of National Op Shop Week and Managing Director of the charity DoSomething, says people who support charity op shops are doing the right thing by the environment as well as people in need.
"69% of people surveyed are aware that op shops provide community welfare programs, but the survey also showed that 41% of respondents shop at op shops because they support recycling," said Mr Dee.
People shop to save money
Many of the items donated to charity op shops are given free to families in need. The remaining items are sold to raise funds for community programs. However in op shops these items are far cheaper than if they were bought new says Kate Dear from Red Cross.
"Everybody knows that you can get good things at op shops for a great price, with 66% of respondents saying they buy from charity op shops to save money. But this survey has shown that recognition of our community welfare work is quite widespread too."
How to find and help your local charity op shop

To find locations for charity op shops in your local area, type in your postcode at OpShopWeek.com.au – over 2,000 op shops are listed at this site.
How can people help during National Op Shop Week?
National Op Shop Week is taking place from August 23rd-30th. Now in its fourth year, the campaign slogan for 2015 is 'Op Till You Drop!'. As the event is held in the week leading up to the first day of spring, Australians are being encouraged to spring clean their wardrobes and donate good quality clothing and other items to their local charity op shop.
"Australia's charity op shops and their 70,000 volunteers play a key role in delivering community services" says Jon Dee. "That's why we want everyone to 'Op Till You Drop!'.
"Decluttering your home can make you feel good, but you feel even better when you donate the unworn clothing and other good quality items to charity op shops. We also need people to purchase these donated items so that money can be raised for vital community services."
What should people donate?
"We hope that Op Shop Week will raise public awareness about the importance of donating good quality items to charity stores," said Susan Goldie, Executive Officer, St Vincent de Paul Society Parramatta Central Council. "By donating to and shopping at Vinnies and other op shops, customers are supporting people in the local community who are doing it tough."
"The rule of thumb is to not donate anything you wouldn't be happy to give to a friend," said Ms Goldie. "Broken appliances and crockery, single shoes, socks or gloves and stained or torn clothing should not be donated. If you're not sure, it's best to call ahead before you donate."