Social distancing, lockdown, and Covidly situations, you can't go out freely for routine medical checkups to monitor your health or to get some sustenance over coronavirus. Under lockdown circumstances, we will strongly recommend following natural treatments to keep your immune system boosted.
There is an unpretentious rule of nature which can be comprehended by an example that when a company launches its new product, they keep some very important aspects under serious consideration such as target audience, customers' buying attitude and budget, customer services, after-sale services, repair & maintenance, and spare parts if and when they needed to be replaced. Let's fix this example to a car manufacturing company who intends to launch its new model, they will work out on customer conveyance, comfort, after-sale services, car spare parts, and regular maintenance should be easily available in the market and purchasing power of the people before officially start manufacturing of that very model. So preplanning is very important and nature never go without a plan.
Hence, if a car manufacturer is taking extreme care of its product then how it would be possible that God, creator of mankind and all the worlds will do things without planning. God already embedded all the required programs, learnings, tools, and skillset into the human mind how to survive under extreme situations.
The human body is highly adaptable to nature. In COVID-19 medical experts say people must do whatever it takes to keep their immunity high. While talking natural remedies, in this context let's talk about some fruits and vegetables keeping the human immune system boosted to cope with COVID circumstances.
Apricot: It has antioxidants that boost the immune system of mankind. It is also rich in vitamins A, C, and E.
Blackseed: It is an integral part of Asian spices and very rich in flavor. Simply chew a pinch of black seed and drink fresh water on an empty stomach.
Garlic: Raw garlic has miraculous characteristics and huge health benefits. Experts suggest that taking raw garlic as a pill with water on empty stomach will not only improve the blood but also develop a great immune system to fight external environmental threats.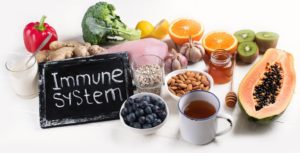 Along with above lines, moderate consumption of blueberry, turmeric, green tea, dark chocolate can enhance the human body fighting coronavirus. All the above mentioned health-related tips are quite simple and useful, which improves the immune system of the human body.
God has created the human body and provides us natural remedies among things that are easily available around the corner of your kitchen. Matter of the fact our lifestyle explains our body. Whatever we eat it comes on your body. Our body made up of 3 things water, air, and light. Many yoga gurus recommend such exercises focusing on body exposure to these three things. I shall mention here an exercise which was recommended by one of my friends. For this exercise you have to wake up early in the morning 15 mints before sunrise. Simply you have to stare the rising sun for 15 minutes, and the same step should be followed in the evening before sunset, stare it for 15 minutes. With the practice of a few days not only you will become early waker but also you feel more energy and freshness in your body.
Above were some free of cost ways to increase your immune system which surely will help you curing ailments especially coronavirus.